---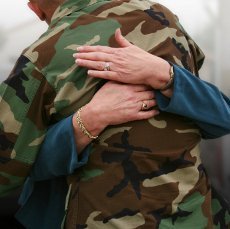 Members of the armed forces are not only in harm's way when serving in combat situations. They are also being targeted by a number scams claiming to provide mortgage assistance, federal agencies warn. 
"Members of the armed services community often face unique financial challenges and are at particular risk for this type of scam," said Christy Romero, Special Inspector General at SIGTARP, the Office of the Special Inspector General for the Troubled Asset Relief Program. "We want to empower service members and their families with information so that they can easily recognize and avoid these scams and also provide them with resources on where to turn for additional information and assistance."
Many of the scams claim to be part of the Home Affordable Modification Program (HAMP). 

"I applaud the new HAMP guidelines that have special provisions for military personnel. But at the same time it's important to remind military personnel and their families that there are scammers out there who may guarantee to get them a mortgage modification - for a fee up front. Don't lose your money on one of those offers - there are plenty of legitimate, free resources for you if you are looking to modify your loan," explained Holly Petraeus, Assistant Director of the Consumer Financial Protection Bureau (CFPB) Office for Servicemember Affairs.
Hallmarks of HAMP mortgage modification scams include: the unofficial use of official program names or logos of government agencies, non-profit organizations, and/or lenders; the advertising of a very high success rate in achieving modifications; and the guarantee of a successful modification in exchange for an upfront fee. Free help is always available.
For servicemembers having trouble paying their mortgage, free help is available. Advice from U.S. Department of Housing and Urban Development (HUD)-approved housing counselors is always free, as are mortgage modifications under HAMP. In most cases, charging fees in advance for a mortgage modification is illegal. HUD-approved housing counselors can help you avoid scams and better understand your options.
Resources
The agencies listed a number of resources available to service members, including:
Consumer Fraud Alert – For tips on how to identify and avoid mortgage modification scams and to view the Consumer Fraud Alert issued by the HAMP Mortgage Modification Fraud Taskforce, visit f.
U.S. Department of Veterans Affairs – If you are an active-duty service member or veteran and have a VA loan, call the U.S. Department of Veterans Affairs at 1-877-827-3702 or visit the Loan Guaranty Service Home Loan Program Web site at www.HomeLoans.VA.gov.

Making Home Affordable Program – For free mortgage-related advice and assistance from HUD-approved housing counselors or to apply for HAMP, call the Homeowner's HOPE Hotline at 1-888-995-HOPE (1-888-995-4673) or visit www.MakingHomeAffordable.gov. You can apply to HAMP on your own or with free help from a HUD-approved housing counselor. Applying to HAMP is always free.

Consumer Financial Protection Bureau – For additional help and more information about mortgages, dial 1-855-411-2372 or visit www.ConsumerFinance.gov/mortgagehelp.
---