---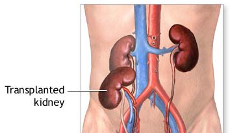 Graphic: University of Maryland Medical Center
There are nearly a billion people using Facebook now, so maybe it makes sense that if you are in need of a kidney, you would put the word out to your Facebook friends. Apparently, more and more people are doing it.
Researchers at Loyola University Medical Center recently examined 91 Facebook pages that were seeking kidney donations for patients ranging in age from two to 69. Apparently it's effective.
Twelve percent of the pages reported receiving a kidney transplant and 30 percent reported that potential donors had stepped forward to be tested to determine whether they were compatible. One page reported that more than 600 people had been tested as potential donors for a young child.
Dr. Alexander Chang, a kidney specialist at Loyola, led the research. He and his colleagues said they are unable to give Facebook all the credit. It's possible, he says, that recipients and families also used other tactics, such as seeking news coverage.
Chang began his research last fall and as it was concluding this month, Facebook announced an organ donation initiative that allows users to post their organ donation status, letting friends know that they have signed up with their state registry to donate their organs after they die.
Who's doing the asking?
In Chang's study, most of the appeals for a kidney were posted by the patients themselves. The rest were posted by children of the recipient or other family and friends.
Some of the study's findings raise ethical concerns. Three percent of the pages received offers to sell kidneys, mostly from people in Third World countries. Would-be donors typically asked for $30,000 to $40,000. However, selling organs is illegal.
Only five percent of pages mentioned the risks of kidney donation, and only 11 percent mentioned associated costs.
"Use of social media could be an effective way to solicit kidney donation, but more study is needed to determine how to do this safely and with enough knowledge to make informed decisions," Chang said.
---