---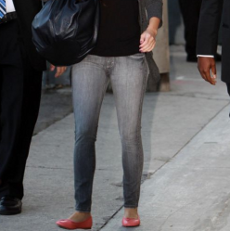 Are you a skinny jeans kind of person? When looking for your next pair of denims, does the sleek skintight look appeal more to your fashion sense over the wide baggy look? If the answer is yes, listen up: a doctor says wearing skinny jeans can actually be a health risk.
Baltimore surgeon Dr. Karen Boyle says skinny jean lovers could be in danger of getting a nerve disorder called meralgiaparesthtica.
"It's a disorder that occurs when one of the nerves that runs in the outer part of a thigh gets compressed. And pressure on it causes symptoms of tingling, numbness and pain in the outer part of the thigh," she said.
Boyle also says that women are especially prone to the disorder and noticeable symptoms are typically nonexistent. She also spoke of a recent diagnosis she gave to one of her female patients who wears the slim-fitting jeans.
Floating sensation
"One woman described it as floating sensation when she was walking. Her thighs kind of felt weak and tingly and she got pain in the thighs. So if you're having that kind of pain and tingling sensation, you should probably loosen up your jeans a little bit," she warned.
Medical experts have also said wearing clothing that is too tight can lead to a host of ailments, such as back pain, yeast infection, acid reflux, stomach pain, and blurred vision. Who would have thought being a trendster would be such a health detriment?
And Boyle isn't the only physician who has warned consumers of this particular health risk. Dr. John Michael Li, a neurologist at Rush University Medical Center in Chicago, has coined the term "tight pants syndrome".
"The pain and discomfort for some patients, it's very uncomfortable, and so they require medication," he said.
Female consumers aren't the only ones who tend to buy clothing that's too tight. According to a study conducted by Cornell University, around seven out of ten men purchase shirts that are too small.
"You have your carotid vessels going up to the brain, and so sometimes people can have some restriction in blood flow," Li told a Chicago news outlet. "There's no need to cause yourself injury to just be fashionable."
Buying shoes that are too tight is also a medical concern, said Dr. Boyle. And they can cause more damage than just blisters or bunions on your feet. Especially for women.
"So when you wear high heels the axis of your pelvis changes and what happens is your pelvis tilts and your buttocks kind of kick out a little bit and your legs are longer looking which is why women like to wear stilettos. But because the pelvis tilts some, it further accentuates the pressure that's caused on those nerves. So it can make the symptoms worse," she said.
---