---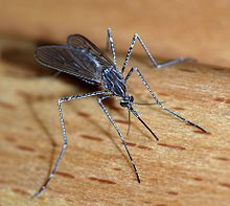 The unseasonably mild winter most of us enjoyed is revealing its downside in a number of ways. One is the early arrival this year – and in increased numbers – of insect pests.
In Pennsylvania this week, health officials announced the earliest detection of a West Nile virus-carrying mosquito since testing began in 2000. The infected mosquito was found in Exeter Township, Berks County.
"The unseasonably warm weather in March caused the virus cycle to begin early this year," Dept. of Environmental Protection (DEP) Secretary Mike Krancer said. "Our staff will continue to monitor mosquito populations and conduct spraying to reduce the threat to public health."
Here come the pests
Pennsylvania is not alone in dealing with the problem. All types of insect pests – particularly mosquitoes – are showing up early because of the early end to winter weather.
West Nile is one of the main disease threats from mosquitoes. Although most people do not become ill when infected with West Nile virus, all are at risk. Older adults and those with compromised immune systems have the highest risk of becoming ill and developing severe complications.
The best defense against West Nile virus is to prevent mosquitoes from breeding. Mosquitoes lay their eggs in stagnant water around homes, weeds, tall grass, shrubbery and discarded tires.
Here are some ways to reduce the mosquito population:
Dispose of cans, buckets, plastic containers, ceramic pots or similar containers that hold water on your property.
Properly dispose of discarded tires that can collect water. Stagnant water is where most mosquitoes breed.
Drill holes in the bottom of outdoor recycling containers.
Have roof gutters cleaned regularly, particularly if the leaves from surrounding trees have a tendency to block drains.
Turn over plastic wading pools when not in use.
Turn over wheelbarrows and don't let water stagnate in birdbaths.
Aerate ornamental pools or stock them with fish.
Clean and chlorinate swimming pools not in use and remove any water that may collect on pool covers.
When you spend time outdoors, consider wearing long-sleeved shirts, long pants and socks, particularly when mosquitoes are most active at dawn and dusk, or in areas known for having large numbers of mosquitoes.
Use insect repellants according to the manufacturer's instructions. An effective repellant will contain DEET, picaridin or oil of lemon eucalyptus. Consult with a pediatrician or family physician if you have questions about the use of repellant on children, as repellant is not recommended for children under the age of two months.
---