---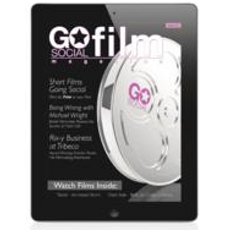 For those foreign film buffs, here's one for you: The company Go Social LLC has announced the launch of what it calls the first application to provide short international films directly to your iPad. The new app is called the Go Social Film Magazine iPad application, and it's free to download.
Announced at this year's Cannes Film Festival, the app will provide a monthly stream of short films from filmmakers all over the globe, and it also gives film buffs background movie information, via exclusive interviews, extra scenes and up to date global film news.
"Too often short filmmakers are under-recognized and their films don't get the exposure that they deserve. We've created this great cutting edge distribution platform to benefit these filmmakers as well as film lovers." said NadzeyaHuselnikava, CEO of Go Social in a press release.
Users can also link their Twitter and Facebook pages to the app, allowing them to directly communicate with the filmmakers and those involved in the film's production. This is an ideal application for those movie buffs, who desire to keep abreast of what the international film community is up to. It's nearly like having a pass to the Cannes Film Festival on a monthly basis.
Go Social
"We chose to launch Go Social Film Magazine at the Cannes Film Festival 2012 because of its worldwide reputation and love of film directors, said Jason Rogan, co-creator of the new app. "The Short Film Corner at Cannes does an amazing job of recognizing short filmmakers, and bringing their films to a wider audience."
"Cannes is the perfect place for us to reach out to the short film community and give filmmakers an opportunity to be featured in our magazine,"he added.
Those who are filmmakers themselves can also submit their own movies to be considered for play on the application. Users would go to the Go Social film website and fill out a quick electronic form. The company will then send you an informational packet concerning the details of submitting your movie.
Go Social feels this is a new way of connecting international film makers and the movie going public in an inventive way. The company also sees the app as a new way to market up and coming films, especially those movies that are more on the obscure side.
"This app takes promotion for filmmakers to a whole new level," explains Director Michael Wright, whose film Dark Side is featured in the first issue of Go Social Film Magazine.
"Filmmakers think in visuals and this enables a perfect fusion of moving pictures, stills and the written word. Until now, people have been just reading about movies in publications. This new platform opens up whole new possibilities for the promotion and enjoyment of film," he said.
---