---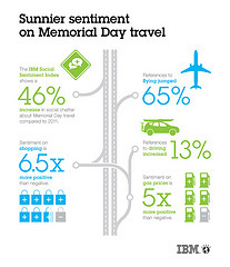 As more proof of the economy's improvement surfaces, consumers are starting to dig into their pockets once again. The latest sign of increased consumer spending comes by way of an IBM report concerning this year's Memorial Day travel.
IBM gathered consumer opinions and writings about Memorial Day from an analytic and language processing technology. Opinions were pulled from blogs, Twitter, Facebook, message boards and additional social media pages.
The study showed that plans and conversations about Memorial Day grew by 46 percent compared to this time last year, and there is a 65 percent increase in consumers planning to fly to their destination this Memorial Day weekend. In addition, more people will spend money on gas this holiday, as the report showed a 13 percent increase in discussions about driving this Memorial Day weekend.
The Social Sentiment Index also showed that retailers could benefit from consumers spending more money this weekend. According to the results, the ratio of positive comments over negative comments concerning Memorial Day shopping was 6.5 to one, which is a rise compared to last years ration of 1.3 to one.
ConsumerAffairs uses a similar sentiment analysis program to see how consumers are feeling about various brands and topics. The 1.9 million social media postings we analyzed found Americans looking forward to the long weekend, which is not only a time to honor the nation's war dead but also traditionally marks the beginning of summer.
The IBM report also showed that people aren't speaking as badly about the economy as in 2011, as negative opinions have decreased by 50 percent. In 2011, 4.9 percent of bloggers and social media users spoke negatively about the U.S. economy, and only 4.9 percent spoke harshly about it in 2012.
Gas prices
And gas prices are lower than last year, causing Memorial Day travelers to hit the roads in higher numbers. In the state of New Jersey for example, the price of gas last Memorial Day was $3.80 per gallon, compared $3.55 this holiday. On the national level regular unleaded gasoline comes in around $3.68 per gallon, compared to $3.94 per gallon last Memorial Day.
"We're seeing a nice downturn in prices, and we're expecting consumers who have been holding back to venture out," said Rose White, spokeswoman for AAA Nebraska. "Here in the Midwest, we're seeing some of the lowest prices."
Over 34 million people are anticipated to hit the roads this Memorial Day, which is a 1.2 percent increase from last holiday.
"When analytics are applied to social media conversations, it identifies more than what people are talking about. This is valuable insight into people's preferences and attitudes about a product or a service and helps us understand why people do what they do," said Marty Salfen, IBM general manager, travel & transportation."
"Being able to predict, plan or act on sentiment around Memorial Day travel in real-time can be an opportunity for businesses to capitalize on fast-moving trends. An airline could offer fliers different, more specific services or deals, transportation officials could provide more alternate routes, retailers could staff up for the long weekend."
---