---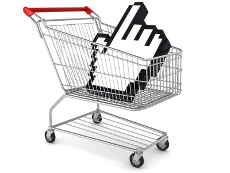 U.S. consumers continue to do more of their shopping online rather than visit a brick and mortar store. In the first quarter of this year, spending with online retailers reached $44.3 billion, a 17 percent increase over the first quarter of 2011.
This represents the tenth consecutive quarter of positive year-over-year growth and sixth consecutive quarter of double-digit growth, according to comScore, a digital industry analyst.
"The first quarter of this year was especially strong for retail e-commerce as we returned to year-over-year growth rates in the high teens, numbers we haven't seen since 2007," said comScore chairman Gian Fulgoni.
Fulgoni says that means the economic numbers that point to a slow recovery might be a little misleading. Yes, brick and mortar sales are down, but there is a definite shift to online shopping, and there the activity remains robust.
Challenges and opportunities
"This presents opportunities but also challenges for brick-and-mortar retailers if they can't hold onto their offline market share in the digital world," Fulgoni said. E-commerce has reached critical mass in several product categories, and it will be important to monitor these sales trends by category in order to correctly gauge the impact e-commerce is having on overall retailer performance."
As you might expect, the top-performing online product categories were digital content and subscriptions, computer software, and consumer electronics. But jewelry and watches also made the list, as did event tickets. All of those categories showed double-digit gains.
The report shows that 48.8 percent of e-commerce transactions included free shipping, the highest percentage for a quarter on record outside of the holiday season.
According to comScore's 2012 Retail survey, 38 percent of tablet owners have made a purchase on their devices within the past month. Apparel was the most popular category for purchase among tablet shoppers.
---