---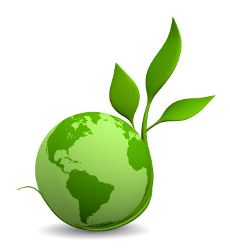 Many outside factors come into play when one selects a product to purchase. Whether it's good customer reviews, or any eye catching advertisement, there are numerous ways a consumer can come to trust a particular brand or product.
According to consultants Harris Interactive, a brand's connection to environmental issues has a big effect on what customers choose to spend their money on.
Harris Interactive conducted what it calls "The Harris Poll", surveying 2,451 U.S. adults, ages 18 and over. The results showed that 26 percent of respondents said environmental issues are either "extremely" or "very" important when it came to choosing a product or service to buy. And that percentage was virtually unchanged across, geography, education, income or gender lines.
These percentages have remained nearly unchanged in the last two years, as 27 percent of U.S. adults in 2010, said environmental issues were extremely or very important to them when selecting a product.
18-24
However, percentages were even higher among 18-24 year olds. The report showed 31 percent of this consumer group factored in a brands connection to an environmental issue when selecting a product, a percentage which has increased in the last three years from 22 percent in 2009 and 24 percent in 2010.
American consumers also chose products that are better for the environment over those products that weren't. Results showed that 79 percent looked for green products, which rose from 78 percent in 2010 and 76 percent in 2009.
The report also showed that consumers are willing to shell out more money for environmentally safe products, as 31 percent of U.S. adults said they would pay extra for such products, which is up from 2010 when 28 percent said they would spend more.
In 2009, 28 percent said they would dig deeper into their pockets for greener products, which shows a growing awareness and concern for the environment across all age groups.
For 18 -24 year olds surveyed, 35 percent said they are willing to spend extra for a green product, which is up from 27 percent in 2010 and 25 percent in 2009.
The survey also showed only 4 percent of all U.S. consumers looked for green products and services no matter the cost, while 11 percent of 18-24 year olds said price didn't matter, as long as a product or service was helpful to the environment.
Next generation
This indicates the next generation of consumers may be more savvy on not only environmental issues, but which products will hurt or help the environment.
But still half (51 percent) of the 18-24 year old demographic said they weren't willing to spend more on green products.
---