---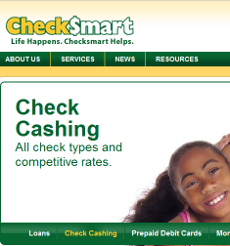 Community Choice Financial, Inc., (CCFI) owns CheckSmart, a payday lender. The company recently faced setbacks in Arizona and Ohio when those states, in effect, outlawed payday lending.
But a coalition of consumer groups says CheckSmart has found a loophole involving prepaid bank cards, and is calling on the Office of the Comptroller of the Currency to stop the practice.
In normal payday loan activity, a consumer borrows an amount that is due in two weeks, in addition to a fee. When figured as an annual percentage rate (APR), the rate is often more than 400 percent. To stop the practice, Arizona capped interest rates at 26 percent and Ohio capped rates at 28 percent. But now, instead of selling payday loans in those states, CheckSmart sells prepaid bank cards.
"Prepaid cards and payday loans just don't mix," said Lauren Saunders, managing attorney at the National Consumer Law Center. "Prepaid cards should be safe alternatives to bank accounts, not vehicles for evading state law with predatory loans that trap people, often those with the least means, in a spiral of debt."
Saunders says these bank cards have very different features than other prepaid cards. She says the CheckSmart Insight Cards have two different loan programs, only they aren't called loans, but "overdrafts."
Overdraft protection
Consumers who have their public benefits or wages directly deposited onto the cards can enroll in overdraft "protection" at a cost of $15 per $100 overdraft, or they can take an advance of their income at a rate of $14 per $100 plus 35.9 percent interest. The loans are repaid immediately upon the next direct deposit, resulting in an annual rate of 390 percent to 401 percent for a two-week loan. Because CheckSmart is selling "overdraft protection," just as a bank does, it's technically not a payday loan, although its terms are almost identical.
The cards are issued by Florida-based Urban Trust Bank, which has also come under criticism by the consumer groups. In a letter to the OCC, more than two dozen national and state civil rights, consumer, and community groups urged the national banking regulator to stop Urban Trust Bank from issuing cards sold by CheckSmart in Arizona, Ohio, and other states where CheckSmart cannot legally make the loans directly.
"We urge the OCC to crack down on Urban Trust Bank for facilitating this deceit, which is an abuse of the national bank charter," Saunders said.
---