---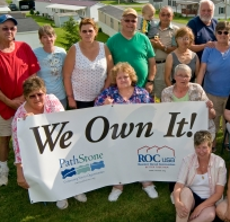 If you've taken notice in recent years, consumer cooperatives seem to be a growing trend within the United States. You know what consumer co-ops are, right?
It's when consumers in a specific community or area join forces to open a business and manage it in democratic fashion, while heavily focusing on service instead of profit, basing its products and services on community need. It's certainly not a new concept but it's one that is growing in both popularity and demand.
In a newly released survey conducted by the National Cooperative Business Association (NCBA), it was revealed that most Americans consider consumer co-ops far superior when it comes to the level of both quality and service.
Nearly one-third (29%) of U.S. residents say they are part of a consumer cooperative, while 72 percent of Americans believe co-ops are beneficial to consumers, compared to 11 percent who feel they aren't beneficial.
"Much-needed alternative"
"This survey illustrates that 29,000 cooperatives in this country offer a much-needed alternative that consumers appreciate," conveyed Liz Bailey, who is the interim president and chief executive officer of the NCBA. "At a time when the entire business community is focused on demonstrating shared value and social responsibility, it's gratifying to know that Americans continue to place their trust in member-owned, democratically governed cooperative business enterprises."
Here are some of the benefits and features of a consumer cooperative:
Membership isn't restricted, as any person of adult age can become a member.
A Consumer cooperative usually encourages its members to seek out pure and top quality goods at a competitive price.
Sales can be made to non-members of the co-op at market rate, while making bulk purchases directly from the producers so they can sell items to its members at retail.
"The Consumer Federation of American (CFA) has long believed that cooperatives offer pro-consumer services and enhance pro-consumer competition in the marketplace," said CFA Executive Director Stephen Brobeck. "It is gratifying to learn from this survey that consumers agree with us."
---