---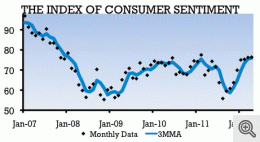 Europe may be a basket case at the moment, but consumers in the U.S. are feeling pretty good. The monthly Thomson Reuters/University of Michigan Surveys of Consumers shows consumer confidence surged in May and is now at its highest point since October 2007.
More favorable job and wage prospects were the main factors behind the improved outlook, according to University of Michigan economist Richard Curtin.
"Consumer confidence was nearly as high in the past two years before the gains were reversed," Curtin said. "While gas prices and economic policy debates played a role in the pullbacks, changes in job expectations also had a critical impact."
Many more consumers reported hearing about recent job gains than job losses—the fewest consumers reported hearing of job losses in May than anytime since mid 2007. In each of the past three months, a majority of consumers reported an improved economy and twice as many expected further improvement rather than renewed declines in the year ahead.
Better credit management
The fact that consumers have been paying down their credit card debt might have something to do with growing confidence. According to Equifax's May National Consumer Credit Trends Report, existing bank credit card balances as of April 2012 were 28 percent below their peak. Balances were $531 billion in April 2012 compared to slightly more than $730 billion in January 2009.
Meanwhile, consumers who want to make a credit purchase are finding it easier to do so.
"The combination of increased available credit and more timely payments among card borrowers has led to the recent growth in card lending," said Equifax Chief Economist Amy Crews Cutts. "Consumers are starting to respond to increased credit availability both in cards and other tradelines, a signal of both their financial confidence and improving economic conditions. In turn, this increased consumer credit activity bodes well for U.S. economic growth through the second half of 2012."
After the start of the Great Recession, many consumers started thinning out the credit cards in their wallets. The report shows that from October 2007 to December 2010, card accounts fell by 22 percent.
Now that consumers have begun to feel more confidence, credit card accounts are growing again. Since December 2010 they have grown by 4.7 percent, now reaching 173 million accounts.
---