---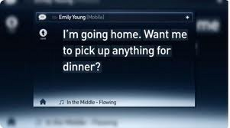 In the past few years companies like Volkswagen, Ford, GM and Nissan Motors, have been promising to offer Wi-Fi in their cars, much to the chagrin of the National Transportation Safety Board, which believes it lessens the driver's ability to drive safely.
As an alternative to using the web for needed info while driving, Nuance Communications Inc., released what it calls Dragon Drive, a computer-voiced assistant that provides Web-like help while driving.
"As connectivity continues to push into the car, bringing with it a host of new services and features, the risk of driver distraction is becoming a key issue for every vehicle manufacturer," said Jack Bergquist, Automotive Analyst."
"Vehicle manufacturers are increasingly turning to natural voice-based interfaces to simplify more complex command tasks and to provide information and data back to the driver in a way that avoids them needing to take their eyes off the road."
Dragon Drive
Available to consumers this summer, Dragon Drive has the ability to listen and answer emails, respond to text messages, and create messages by merely speaking and telling the assistant what you would like it to say.
The new technology also acts as a GPS system providing directions, finding local businesses, searching songs, and accessing basic web information. All of these features are commanded by voice.
"Millions of cars around the world already use Nuance voice recognition for voice dialing and controlling the climate system, but all those activities are relegated to controlling technology in the car," said Mike Thompson, senior vice president of the mobile division at Nuance. "What's new here is we've extended that control to the cloud. Now you can interact with the Internet as you are driving along."
The new driving technology could also bring down the number of accidents caused by texting and talking on cell phones, its promoters suggest.
In a 2010 report, the National Safety Council estimated there are 1.6 million car accidents each year caused by texting and cell phone use.
"The entire automotive ecosystem faces a critical challenge – keep consumers connected to the content they love, without imposing dangerous distractions behind the wheel," said Arnd Weil, vice president and general manager of Nuance Mobile.
"Dragon Drive has been designed from the ground up with a focus on voice and natural language bridging that gap to give consumers the ability to take full advantage of the broad range of services today's connected car has to offer."
Nuance sells Dragon Drive directly to car makers, so it's not a technology one can purchase separately or download, which is the product's downside. If you want to use the service, you would have to buy a car that already has it installed.
Currently, Dragon Drive is available in six languages, including English, Spanish, French, German, and Italian. Other languages will be added in the future, the company says.
---