---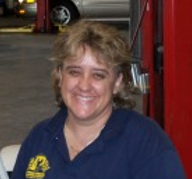 Pam Oakes
Consumers who buy new or used cars from a dealer might be getting more than they bargained for. Automotive author Pam Oakes says many dealers are now including service contracts into the sale price of the vehicle.
The pitch may be "you don't pay for regular maintenance for four years or 48,000 miles," but Oakes says consumers are paying. These service contracts can cost $2,500 or so - much more than the cost of four years of regular maintenance.
"So not only are they paying more than the service should cost, but since it's rolled into the financed price of the car, they're paying interest on their oil changes," Oakes told ConsumerAffairs.
Oakes, who operates Pam's Motor City Automotive, in Ft. Myers, Fla., is author of the book "Car Care for the Clueless." She said she became aware of the trend when many of her longtime customers told her they had to take their newly purchased vehicles to the dealership for service, otherwise they would be paying for service twice.
Examples
As an example, a Cadillac CTS V can be financed with a dealer service plan warranty that amounts to an additional $2,300 over the first four years of a lease/finance. Average service would cost just $1,200 on the same car during the first four years, acording to Oakes.
She says a dealer service plan on a Kia Optima would cost on average $1,400 in additional payments in the first four years. Average service at a repair shop would cost just $500 during the first four years.
Dealer service warranty plans cover oil changes, tires, brakes, belts, etc. But Oakes says consumers are being charged for unnecessary items and procedures such as inspections on clutch fluid, brake line hose connections, brake fluids, and fuel additives.
"On average, during the first four years, the way cars are built today, a vehicle typically only needs filters and oil changes," she said.
Consumers may or may not be told that they are receiving a service plan during the sales process. If they are, they might not understand that it's an option they paid for. It's buried in the paperwork that consumers must digest and sign before they can drive their vehicle off the lot.
Got to read the documents
Not matter how long consumers have been at the dealer and no matter how tired they are, Oakes says they have to read each document before signing it.
"Your signature is the most important asset you have," she said.
Oakes says consumers who do not want a service contract on their newly purchased new or used car should ask the sales person about it and specifically ask to see the document that spells out the cost. Then, when they've identified which document commits them to the service contract, make sure they don't sign it.
---