---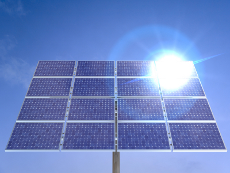 For those homeowners and businesses who use rooftop solar paneling in California, good news: You have some financial credit coming to you.
The California Public Utilities Commission (CPUC) voted unanimously to increase the number of people who are able to take advantage of the state's "net energy metering" program. The program allows solar panel users to receive money off future utility bills, for cutting back on California's energy demands. Net energy metering first began in the 1990s.
But some disagree with the net metering program, namely the state's three largest utility companies. They complain that while solar panel users will pay less on their electricity bill, other consumers who don't use solar paneling will have to pay more, to maintain transmission lines and provide the upkeep of the city's electricity system.
"We're proud to be a strong supporter of solar," said Lynsey Paulo, spokeswoman for Pacific Gas and Electric Company. "At the same time, we really strongly believe that everyone needs to be concerned about this cost shift from solar customers to customers who can't afford it or choose not to go solar."
Utility companies also fear receiving less money each month, which they say could make it more of a challenge to hire and keep good utility workers.
Who would pay?
"If everyone was on net metering, who would pay for the grid that we have?" said Mike Florio, a representative of CPUC. "On the other hand, it would be problematic for [net metering] to come to an end and provide a major setback to the solar industry that has flourished in this state."
But many state officials champion the program, and consider it the perfect incentive for homeowners and businesses to continue using solar paneling, especially when costs run high to install the rooftop mechanism.
State commissioners recently changed the calculation of the metering program in order to include more people who are able to take advantage of the financial credit. The law now states it must offer the program to all solar energy users, until the amount of electricity the solar paneling creates, equals 5 percent of the "aggregrate customer peak demand."
"Today's decision ensures that the solar industry will continue to thrive for years to come, and we are fully committed to developing a long-term solution that secures the future of the industry in California," said Michael Peevey, president of the utilities commission.
While the net energy metering program is a certain win for solar users, it's a financial loss for those who can't afford the paneling. But does cutting back on California's energy demands supersede the importance of making sure some of its residents can afford rising bill costs? It's an extremely thin line for state officials to walk.
---