---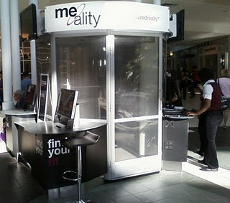 Most of us like wearing jeans, it's the shopping for them that can sometimes be an arduous task. This really holds true in today's jean market, as you can now get every jean type from the skinniest of the skinny jeans to the working-in-the-fields-slopping in-the mud variety.
Aside from racking our brains searching for the perfect style of jean, trying to find a pair that actually fit correctly can also be a task tougher that's than the denim your shopping for. We all want to be that size of yesteryear, but sometimes the image of ourselves in our heads vastly differ from the image of ourselves in our mirrors, making it even harder to figure out the exact jean size we need to purchase.
But once again, it's technology to the rescue. Seven different Southland malls throughout Southern California have set up digital sizing machines that determine exactly the best size and fit of not only jeans but any hard-to-size garment. The name of the apparatus is pretty clever too. The Me-Ality digital size machine. Get it?
Fitting wand
Here's what it does: A shopper steps inside of the phone-booth-size contraption, and stands completely motionless with either hands to the sides. A component called a fitting "wand" spins around the customer for about a minute, documenting every last measurement of the shoppers size and frame.
Then almost like a personal stylist, it recommends not only the correct size, but specific brands and even different styles. The machine is for both men and women, and it will only suggest items and brands that can be purchased in that particular mall.
If you've ever been into one of those body-scanning machines at the airport, you have a good idea of how this machine operates. One of the first customers to use the machine was quoted as saying, "This could be really useful for people who don't know what fits them or what style is best. I know it takes me a long time to find jeans that fit, so I don't buy them very often."
Which is what the designers of the machines anticipated, as removing the mystery from correct styles and sizes will allow consumers to shop with more confidence, and ultimately spend more money.
Saves time
It's also a time saver. If less time is being spent on trying on different items, the more time consumers will have to select something and then purchase it. Pretty crafty on the malls part.
But that's what technology does, right? It sometimes creates shiny new toys for people to be fascinated with, while making them forget that the new toy is making them spend more money.
The new machines can be found throughout Southern California at Valencia, The Westfield malls in Culver City, Santa Anita, Santa Ana, Topanga, West Covina, and Thousand Oaks Mall.
---