---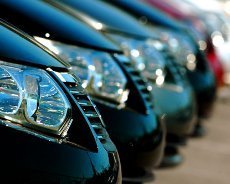 If you have been thinking about buying a used car but have put it off, the delay may work to your advantage. It turns out the recent relief at the gas pump is yielding dividends on the car lot as well.
After double-digit percentage gains from January through May, prices on many popular used compact and midsize cars are expected to drop up to up to five percent in June compared to May, according to Jonathan Banks, senior analyst with the National Automobile Dealers Association (NADA) Used Car Guide.
"The trend of rising prices for used cars will reverse course in June because of declining gasoline prices combined with a normal seasonal slowdown in consumer demand for used cars," Banks said.
Car prices will fall faster than truck prices
Used car values are expected to fall by about two percent, while truck values will decline by about one percent or half of the amount of cars, according to the June edition of the NADA Official Used Car Guide. Prices for used compact and midsize cars will fall by an average of 2.4 percent and many used cars will see larger declines.
For example, after appreciating by $1,200 or 11 percent from January through May, the value of a 2009 Honda Civic Sedan 4D LX will fall by $600 in June.
"Prices on the Toyota Prius will drop even more dramatically in June," Banks said. "Rapid depreciation for hybrid vehicles is not uncommon after surging gasoline prices reach a peak and then begin to quickly fall."
After increasing in value by $2,350 from January through May, prices on the 2011 Toyota Prius Liftback 5D will fall $900 in June, according to the NADA Used Car Guide.
Volatile hybrid prices
"During periods of rapidly changing gasoline prices, values of hybrid vehicles become more volatile because consumer demand for hybrids rises and falls along with the price of gasoline," Banks said.
For example, when gasoline prices increased during the first four months of 2011, the 2009 Toyota Prius increased in value by about $4,500 from January through April 2011. In the fall of 2011, the Prius dropped in value by $4,800.
The value of a 2010 Hyundai Elantra rose 13 percent from January through May, but is expected to fall by $500, or four percent, in June. A 2011 Nissan Versa increased in value by 11 percent in the first five months of the year, but should also go down by four percent in June. A 2009 Toyota Camry rose in price by 15 percent from January through May, but is expected to sell for five percent less in June.
Still, you don't have to be in a rush. Looking ahead to July, the NADA Used Car Guide is forecasting that depreciation for small and midsize cars, which experienced the greatest appreciation over the first part of 2012, will see values continue to drop sharply.
---