---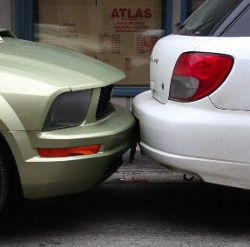 Police around the country say they're seeing an increase in fender-bender robberies, a variant of carjacking.
The scheme works like this: An unsuspecting driver is rear-ended, and gets out the vehicle to assess the damage and to exchange insurance information. The "fender-bender" trap is set, and the driver is then robbed at gun-point or knife-point.
It is a frightening new roadway robbery caper with sundry names, warns AAA Mid-Atlantic. Police investigators are calling it the "bump-and-rob," the "bump and run" scheme, and the "tap-and-grab" robbery. By whatever name, rear-ended motorists should be wary of falling prey to the scheme.
The fender-bender robbery scheme is a "crime of opportunity – a thief searching for the most vulnerable prey," local authorities are cautioning area motorists. In recent incidents in North Potomac, Md., two vehicles were struck from behind by another vehicle while the victims were driving on Jones Lane. The Montgomery County, Md. Police Department believes the incidents are related.
The scheme is another iteration of carjacking. As always, drivers should be careful in a dangerous situation, and be on high alert for any unseen or unknown dangers, advises AAA Mid-Atlantic. Regardless of the amount of damage that is caused by someone rear-ending you, always consider your personal safety first. "Bump-and-rob" artists stage such incidents to lure unsuspecting drivers out of their cars to rob them of their wallet or purse.
"It's a copycat crime, and it is manifesting itself around the country, and this crime is now cropping up here, and that's disturbing and unnerving to motorists," said John B. Townsend II, AAA Mid-Atlantic's Manager of Public and Government Affairs.
"Because most motorists are law-abiding citizens, they are willing to exchange information in the aftermath of a minor accident, and they are eager to file an accident report to make sure any minor damage to their vehicle is covered. That's the routine, but that makes them vulnerable. They can unwittingly put themselves into harm's way."
In fact, in most jurisdictions, the "fender bender" law requires motorists to move their vehicles to the shoulder of the road following minor, non-injury crashes. That can be a costly, risky, and fatal mistake, warns the spokesman for AAA Mid-Atlantic.
"If you are rear-ended, check your surroundings before getting out of the car. If the situation makes you feel uneasy, write a description of the vehicle and the tag number, and signal the car to follow you to the nearest police station or populated area. If you do get out of the car, take your keys and wallet or purse, and stay alert."
---