---
Despite a slow recovery in the economy, consumers have continued to buy new cars and trucks over the last four year. Most carmakers, especially those offering fuel efficient vehicles have done well.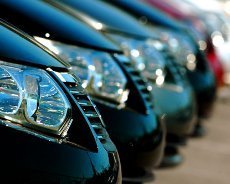 Consumers have been able to purchase cars, in large part, because unlike the housing market, the auto market provides for accessible financing. Sales have risen even as prices have.
The purchase and financing of an average-priced new vehicle took 23.2 weeks of median family income in the first quarter of 2012, according to Comerica Bank in Dallas. Consumers on average spent $300 more - an increase of 1.2 percent - on new cars in the first quarter of 2012 compared with the fourth quarter of 2011.
"Auto affordability was down slightly in the first quarter of 2012, but remains very high by historical standards, contributing to the upward trend in auto sales visible from mid-2011 through early 2012," said Robert Dye, Chief Economist of Comerica Bank. "Job creation has supported slow-to-moderate income growth while car prices have increased moderately and interest rates have remained low.
Dye says sales have remained strong because households have paid down debt, and that has created space in household budgets, allowing many families to take advantage of the current high affordability of new cars. Easing gasoline prices through the current second quarter, he says, will also help auto sales.
"These favorable trends are helping consumers to feel more confident about unleashing their pent-up demand for automobiles," Dye said.
The bank compiled the report using the latest data on consumer spending on light vehicles and on the terms available on auto loans.
Despite the comeback of the auto industry, Morningstar reports U.S. vehicle sales are still lower than they should be. But the analyst said it's optimistic about growing sales over the next several years.
---