---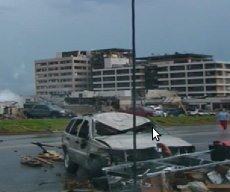 April was a month of wild, destructive weather in the U.S., especially in the Midwestern states.
During the month's most notable outbreak, multiple central states sustained widespread tornado, hail and wind damage. At least 94 tornado touchdowns were recorded during a 72-hour stretch.
In Kansas, an EF-3 tornado just outside the city of Wichita affected at least 777 homes and 165 businesses. Additional tornado damage occurred in southwest Iowa and northwest Oklahoma, killing at least six people. The economic toll was also staggering.
A report by Impact Forecasting shows the series of severe weather events across central and southern sections of the United States caused upwards of $1 billion in insured losses. Economic losses were even higher.
Consumers feel it
This is relevant to consumers because major losses by insurance companies are usually passed on, in the form of higher premiums or cancelled policies. Even consumers living outside the recent area of destructive impact can feel the impact.
"Without notice, Allstate increased our home owners insurance 24 percent due to 'weather related claims,'" Ray, of Amherst, N.Y., wrote in a ConsumerAffairs post. "There has been no significant weather event in this area since the ice storm of 2007. Adding to the anger is that our insurance rep failed to inform us of the increase while visiting beforehand to review our policy and was non-responsive when asked for some notice from Allstate justifying the increase."
Tina, from Tennessee, says she filed two weather-related claims with State Farm, one in 2008 and one last year.
"We received a letter from them stating that as of May, we would no longer have homeowners with them - they were canceling our insurance because of the two claims," Tina writes. "Really? They are weather-related! Wind and hail! Not neglected home!"
A claim is a claim
But in a numbers-oriented industry like insurance, a claim is a claim. Last month Texas opened an investigation into State Farm's cancellation of 11,000 homeowner policies.
The Impact Forecasting report says a severe weather outbreak in Texas, which comprised at least 21 tornadoes and widespread hail, damaged more than 1,100 homes alone in the greater Dallas-Fort Worth metro region. Various insurers received at least 105,000 claims with payouts in excess of $650 million.
"While not as substantial as the historic 2011 season to this point in terms of overall losses, the 2012 severe weather season has certainly caused significant damage across portions of central and southern sections of the United States," said Steve Jakubowski, President of Impact Forecasting.
While weather damage so far this year has been severe, it may just be beginning. Tornado frequency data dating to 1991 indicates that May is typically the most active tornado month of the year in the U.S., which Jakubowski says is a warning to all consumers to remain aware of potential storm threats.
---