---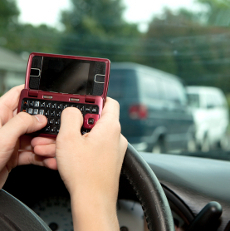 Just about everyone knows texting while driving is dangerous but what responsibility does the person on the other end of the text have?
None, a New Jersey judge has ruled.
Morris County Superior Court Judge David Rand dismissed claims against Shannon Colonna of Rockaway, N.J., saying she bore no legal responsibility for an accident that happened after she texted Kyle Best, who was then 19, the New Jersey Law Journal reported.
Best was returning from teaching a swimming class on Sept. 21, 2009, when he got Colonna's text. While answering it, he lost control of his pickup truck, crossed the double yellow line and hit David and Linda Kubert on their motorcycle. Each lost a leg as a result of the accident.
The Kuberts argued that Colonna should share responsibility because she knew or should have known that Best was driving when she sent the text.
But Judge Rand said he could find no precedent for such a claim and dismissed the Kuberts' civil suit against Colonna. Their case against Best remains intact.
---