---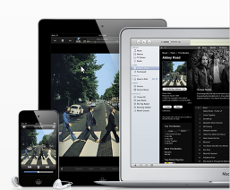 Free music sites are popping up faster than artists can make the music. Between Spotify, Grooveshark and Mixcloud, customers can choose not to buy new music ever again. Kind of sad but true.
The newest site to emerge is MoodMusic, which is creating a new Internet radio application for iTunes. MoodMusic isn't actually new, as the company introduced a free music application through Facebook back in 2010, but had to shut down in order to re-code the app.
In its new go-around, MoodMusic is trying to pull in users through a pretty creative marketing idea. The first 100,000 people to download the application will receive a share of stock in the company, by completing an email verification. The app will remain free until June 1, 2012, then customers will have to pay a 99-cent charge to access it.
The company said it's eager to enter into its second phase of business after partnering with iTunes, and are attempting to return to its digital glory days, when the company achieved 20,000 downloads in just the first couple of months.
"Facebook threw us a bit of a curveball by returning to Java, which has left our $85,000 Facebook app on the sidelines but ready for a re-launch. This has been a bit painful because this application along with a MoodMusic.fm website allows for the service to be completely cloud-based which of course is what our customers are asking for," the company said in a statement.
The goal of MoodMusic is to allow each member to become a DJ, by allowing users to share their favorite tunes to other MoodMusic customers. The app will allow members to connect with online friends in order to listen to the songs they've posted. Friends can also access the songs that you've posted. It's all pretty similar to what SoundCloud does.
In addition to its social music station, MoodMusic is also trying to tap into the underground music scene. In 2011, the Internet company bought BuildingBands.com, which allows musicians to post their music for potential discovery.
Aside from the free share of stock that people will receive from downloading the music app, there isn't anything that is vastly different about MoodMusic from other social radio stations. However consumers have about two weeks to give the application a free whirl. After that it'll cost you. Those interested can find the app here.
---