---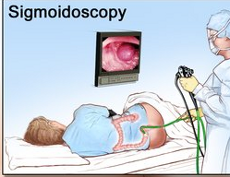 A study that spanned nearly 20 years has found that flexible sigmoidoscopy, a screening test for colorectal cancer that is less invasive and has fewer side effects than colonoscopy, is effective in reducing the rates of new cases and deaths.
In the study, sponsored by the National Cancer Institute, part of the National Institutes of Health, researchers found that overall colorectal cancer mortality was reduced by 26 percent and the incidence of new cases was reduced by 21 percent as a result of screening with sigmoidoscopy.
These results appeared online, ahead of print, on May 21, 2012, in the New England Journal of Medicine., and were presented at Digestive Disease Week, a scientific conference.
Sigmoidoscopy involves examination of the lower colon using a thin, flexible tube-like instrument, called a sigmoidoscope. The procedure has fewer side effects, requires less bowel preparation, and poses a lower risk of bowel perforation than colonoscopy, in which a similarly flexible, but longer, tube is used to view the entire colon.
Colorectal cancer is the second-leading cause of cancer-related death in the United States. Previous research has shown that colorectal cancer incidence and mortality can be reduced with a number of screening methods, including fecal occult blood testing (FOBT). However, flexible sigmoidoscopy and colonoscopy are more sensitive than FOBT for detecting polyps that may lead to colorectal cancer. Removal of pre-cancerous polyps, which can be done during sigmoidoscopy or colonoscopy, reduces colorectal cancer risk.
"The most important message is that, regardless of modality chosen, colorectal cancer screening lowers mortality from colorectal cancer, and all individuals 50 and over should be screened," said study author Christine Berg, M.D., chief of NCI's Early Detection Research Group and project officer of the Prostate, Lung, Colorectal, and Ovarian (PLCO) Cancer Screening Trial.
Large study
From 1993 to 2001, a total of 154,900 men and women aged 55 through 74 were randomly assigned to receive flexible sigmoidoscopy screening or usual care as part of the PLCO trial.
"This is the second major trial that has shown that sigmoidoscopy is effective in reducing the risk of dying of colorectal cancer. Sigmoidoscopy is less invasive than colonoscopy and carries a lower risk of the colon being perforated, which may make it more acceptable as a screening test to some patients," said Barnett Kramer, M.D., director of NCI's Division of Cancer Prevention. "There are several effective screening tests for colorectal cancer, and the most effective screening test is the one that people choose to take."
---