---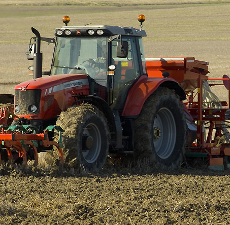 A deeper look behind the workplace accident statistics in the U.S. and Canada shows a large percentage of those deaths and injuries involve youth under the age of 20. To safety researchers, it raises some troubling issues.
"We don't tend to think of child labor as a major issue in the U.S. but we should," said Carol Runyan, of the Colorado School of Public Health the lead author and lead author of the workplace study. "Laws governing the employment of youth ages 14 to 17 in this country are often very lenient and in the case of family farms virtually non-existent."
Stricter oversight
Runyan, who led a group of American and Canadian scholars and public health professionals on the project, is now calling for stricter oversight of working conditions for the young including those employed in agriculture.
"Work can help young people develop skills, explore career options, earn money and gain self-esteem," she said. "But without adequate safeguards in place, work can also be dangerous for youth."
The report found that 88 youths under age 20 died from work-related injuries in 2010 while 20,000 missed work in private industry due to occupational-related illness or injury. This may be due partly to their inexperience, but it could also be partly due to their number.
Significant part of the labor force
Young people comprise a significant part of the U.S. and Canadian labor force. More than 17.6 million workers under age 25 are employed in the U.S. In Canada, nearly three million workers between ages 15 and 24 were employed in 2010.
Runyan said that while work holds many positives for young people, it can also expose them to unsafe tasks and environments with limited supervision.
"For example, a recent national U.S. study reported that 26 percent of workers younger than 18…worked at least part of the day without an adult supervisor and as many as one-third of them reported not having any health and safety training," Runyan said.
Food service to construction
You often find young employees in fast food restaurants, grocery stores, convenience stores and even construction sites. Hazards include being burned while preparing food, injured by equipment or even robbed. But these urban and suburban hazards, says Runyan, pale in comparison to the dangers of working in what seemingly is the safest of places – the family farm.
"From a fatality standpoint, farm work is the most dangerous occupation for kids," she said. "In farm work, youths are working around heavy equipment, digging and cutting with sharp implements. There are deaths almost every year from young people suffocating in grain bins."
Youths working on family farms have practically no legal protections and often drive while underage and operate tractors and other heavy equipment. Runyan and her colleagues are calling for new laws that would better safeguard the safety of young workers on the job.
---