---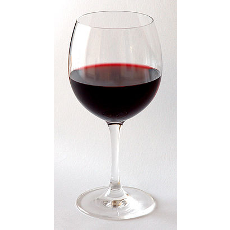 If red wine enthusiasts need another reason to indulge their favorite passion, here it is: piceatannol, a substance found in red grapes, may help keep you trim.
Researchers at Purdue University report piceatannol has a structure similar to another substance found in red wine, resveratrol, which may hold some health benefits of its own.
Kee-Hong Kim, an assistant professor of food science, and Jung Yeon Kwon, a graduate student in Kim's laboratory, say piceatannol is able to block cellular processes that allow fat cells to develop, opening a door to a potential method to control obesity.
Alters the timing
"Piceatannol actually alters the timing of gene expressions, gene functions and insulin action during adipogenesis, the process in which early stage fat cells become mature fat cells," Kim said. "In the presence of piceatannol, you can see delay or complete inhibition of adipogenesis."
Previous studies of red win have focused mostly on resveratrol, which is also found in peanuts, and is believed to be helpful in combating cancer and heart and cognitive diseases. It turns out that resveratrol is converted to piceatannol in humans after consumption.
While similar in structure to resveratrol – the compound found in red wine, grapes and peanuts that is thought to combat cancer, heart disease and neurodegenerative diseases – piceatannol might be an important weapon against obesity.
The way the researchers explain it, fat cells reach maturity over a relatively short period of time.
Interference
Kim found that piceatannol, in effect, interferes with that process. Piceatannol essentially blocks the pathways necessary for immature fat cells to mature and grow.
Increasingly, red wine is being analyzed for its potential health benefits. Besides studies suggesting it is helpful in preventing various types of cancer, a National Institutes of Health study earlier this year tried to figure out why.
Researchers found that resveratrol does not directly activate sirtuin 1, a protein associated with aging. Rather, the authors found that resveratrol inhibits certain types of proteins known as phosphodiesterases (PDEs), enzymes that help regulate cell energy.
These findings may help settle the debate regarding resveratrol's biochemistry and pave the way for resveratrol-based medicines.
---