---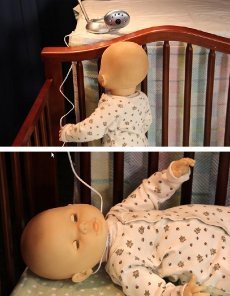 The number of children's products recalled last year dropped 24% from the previous year. That's good, right? Well, maybe but then again, maybe not.
Unfortunately, despite a much-hyped Congressional overhaul of the Consumer Product Safety Commission (CPSC), much of what the agency does still goes on behind closed doors, thanks to sustained lobbying by manufacturers eager to avoid the damaging publicity and other costs associated with recalls.
An annual report by the non-profit group Kids In Danger finds that nursery products were once again the most-recalled category, making up 30% of total 2011 recalls, followed by toys at 26%.
The largest recalls were for 1.7 million infant monitors that can cause strangulation -- and which were blamed for two deaths in 2011. The other of the year's three deaths occurred when a child became entrapped in a bunk bed.
Sleeping is, in fact, dangerous for infants and toddlers. There were 14 recalls of cribs, bassinets, bunk beds, canopy beds and other sleeping products.
The second-largest recall was for 1.7 million toy workbenches and tools that caused some near-misses when toddlers got the pieces stuck in their throats. Little girl's Keds shoes with decorative stars caused 27 lacerations before they were recalled.
Target had the dubious honor of having the most recalls, six of them. Next up were Battat and Build-a-Bear, with three each.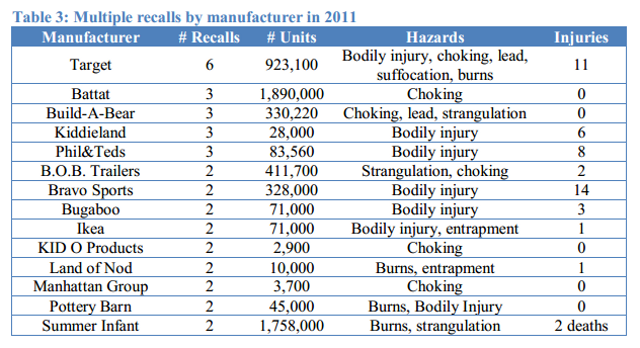 Source: Kids In Danger
So, to return to the opening question: If the number of recalls is down, doesn't that mean manufacturers are starting to test their products more thoroughly and putting out safer toys, furniture, tools and appliances?
Unfortunately not. As Kids in Danger put it: "With the secrecy surrounding the process, that is difficult to ascertain."
The group noted that many products that have not been recalled have nevertheless been reported in the CPSC's own database as causing serious injuries.
In other cases, it took hundreds of reports before anything was done. The Adventure Playset Swingset was the subject of 500 consumer repports before it was recalled.
---