---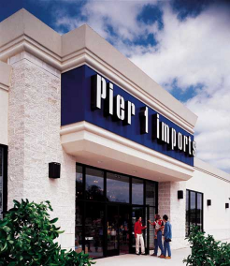 Pier 1 Imports has outlined plans for an upgraded e-commerce platform, store remodelings, and new store openings over the coming three years.
Last year, the retailer opened 13 new stores, according to its website, and introduced a site-to-store initiative called Pier 1 To-Go. This July, it will launch Pier 1 To-You, which CEO Alex Smith said will "lay the foundation for the next phase of our evolution into a multi-channel retailer ... and have the ability to provide a truly seamless shopping experience for our valued customer."
But many consumers tell ConsumerAffairs they have a less than seamless experience when they try to make payments on their Pier 1 credit card.
"Trying to pay bill online, Chase Bill Pay page kept telling me I was not a recognized card holder," said Robin of Manor, TX. "I called the phone number on my statement and was told that Chase is no longer the bank for Pier 1. All the information on payments, phone numbers and online addresses are for Chase on the current month's statement. When I asked why customers were not notified, the rep, who gave her name as Marinol, stated that this was a sudden change and notices would be forthcoming."
Melissa of Shippensburg, Pa., had a similar experience.
"I received a billing statement from Pier 1 for March. I have attempted to make a payment to chase.com/pier1card, which is who is listed on the statement, for the past week or so. The site states: 'Cannot confirm you as an account holder.'" she said.
"Now, my payment is overdue. I will get a late charge and I still don't know how or where to make a payment. If I can't pay online, I certainly don't want to mail a check and have it get 'lost' if I can't be identified as an account holder. This is ridiculous."
No payments, no interest
Sherie of Eugene, Ore., wrote to ConsumerAffairs about a dispute over what was supposed to be a no payments-no interest promotion.
"I purchased $1515.78 of mostly furniture in March of 2009 at what I understood to be a promotion through Chase of 'no payments, no interest for 12 months.' I am a regular at the store as I purchase for my business of home staging and I spoke with the manager to verify that it was truly no payments, no interest for 12 months. She strongly agreed and of course encouraged me to go forward to get 20% off. So I did," Sherie said.
"Two months later, I receive a late payment and interest charge for the items. I called to complain to Chase that my promotion was for no payments, but they did not agree. So I paid the $1515.78 plus $203 in interest to stop the hassle."
Even though I paid in full over the phone with a debit card, the next month, there were more interest charges owed. I then refused to pay more and since then have spent hours every months (from July 2009 to today, October 22, 2010) calling Chase and Pier 1. It took months to get work with Chase. I would find supervisors who would say that they stopped all charges, only to find the next month's bill with more charges. Finally, I started calling Pier 1 Customer Care. I was told by a representative there that, in fact, she could see that the promotion in March was "no payments, no interest".
Sherie said the dispute damaged her credit rating and was never satisfactorily resolved.
Refurbishings
Perhaps the improved ecommerce platform will improve the bill-paying experience.
Meanwhile, Pier 1 says that over the last fiscal year, it refurbished 125 stores with new fixtures and lighting, fully remodeled three stores, and added new merchandise fixtures throughout all of its stores.
This year, the company said it plans to remodel up to eight locations, refurbish roughly 100 existing stores improved merchandise fixtures and lighting, and integrate new merchandise fixture elements into all stores.
Smith said Pier 1 remains on track to open approximately 80 to 100 new stores and close approximately 30 to 50 existing locations by the end of fiscal 2016.
---