---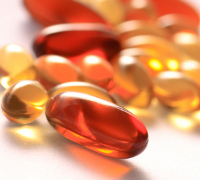 Omega-3 fatty acids -- the kind found in fish -- are thought to be helpful in preventing heart disease. But that doesn't necessarily mean that taking omega-3 supplements is beneficial, and a new study finds the evidence "insufficient." Experts who reviewed the study said that doesn't mean you should stop eating fish, however.
According to a report published Online First in Archives of Internal Medicine, a JAMA Network publication, the new analysis of previous studies finds "insufficient evidence of a secondary preventive effect of omega-3 fatty acid supplements" among patients with a history of cardiovascular disease (CVD). The evidence as to whether taking the supplements helps prevent cardiovascular disease was also inconclusive, the analysis found.
Sang Mi Kwak, M.D., of the Center for Cancer Prevention and Detection, Republic of Korea, and colleagues conducted the study.
"Our meta-analysis showed insufficient evidence of a secondary preventive effect of omega-3 fatty acid supplements against overall cardiovascular events," the authors note. "Likewise, we found no beneficial effect of omega-3 fatty acid supplements on other cardiovascular events, such as sudden cardiac death, myocardial infarction (fatal or nonfatal heart attack), angina and unstable angina, congestive heart failure, and transient ischemic attack and stroke, or on all-cause mortality."
Their analysis included 14 randomized, double-blind, placebo-controlled trials that involved 20,485 patients with a history of CVD. The mean (average) age of participants was 63.4 years old and 78.5 percent of the participants were men. Among the trials, reported from June 1995 through November 2010, the daily dose of EPA or DHA ranged from 0.4 to 4.8 g/d (grams per day) and follow-up ranged from one to 4.7 years.
What to do?
What does this mean for doctors and patients?
In an invited commentary, Frank B. Hu, M.D., Ph.D., of the Harvard School of Public Health, Boston, and JoAnn E. Manson, M.D., Dr.P.H., of Brigham and Women's Hospital, Boston, noted that the trials included in the meta-analysis were mostly "very small short-term studies" and said more research is needed.
"While waiting for more definitive results, what should physicians tell their patients?" they asked. "To date, there is no conclusive evidence to recommend fish oil supplementation for primary or secondary prevention of CVD. However, a diet high in fatty fish (≥2 servings of marine fish per week) should continue to be recommended for the general population and for patients with existing CVD because fish not only provides omega-3 fatty acids but also may replace less healthy protein sources, such as red meat."
(Arch Intern Med. Published online April 9, 2012. doi:10.1001/archinternmed.2012.463. Available pre-embargo to the media at www.jamamedia.org.)
---