---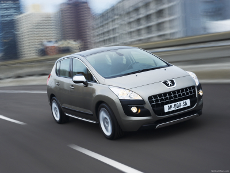 2012 Peugeot 3008
In this year's "World Green Car" competition at the New York International Auto Show, Mercedes Benz took home the trophy, with the company's new S 250 CDI BlueEFFICIENCY model beating other top contenders, including the Ford Focus Electric and a Peugeot 3008 Hybrid for the 2012 award. It's the second time the German automaker has won World Green Car, which is presented by Bridgestone to honor eco-friendly automotive design.
The World Green Car contest provides its own unique take on the best new auto technology and presentations for the model year: this contest hinges on the opinions of three "green experts" who consider issues like tailpipe emissions, overall mpg, and progressive design before sending their short lists to a larger groups of "jurors" for ratification.
The 2012 World Green Car choice is also a win for the wider range of high-mpg "clean diesel" cars; while in years past, the award has gone to all-electric cars like the Chevy Volt, this year's judges chose to focus on the BlueEfficiency technology that Mercedes Benz is promoting as a way to get more out of every tank without going to a hybrid design. Although the German auto maker is still pursuing hybrid models like the S400 and electric "fuel cell" cars, the company has been putting a lot of work into the S 250 CDI model's 204hp engine, which is estimated to get over 40 mpg combined.
Judges also commented on the use of a "start-stop system" that limits emissions; ConsumerAffairs.com has been covering the addition of this technology to other new vehicles for today's eco-conscious and fuel-thrifty market.
We should point out that this year's Mercedes Benz S class starts at around $92,000, but while that's an amount guaranteed to produce sticker shock in most shoppers, an available Mercedes Benz C Class car with some of the same technology and high mpg retailed for around $34,000. Nor is Mercedes Benz the only carmaker proving that turbodiesel and related designs can get high mpg: from Volkswagen's frugal diesel engines to new conventional engine designs from makers like Mazda, today's auto makers are giving consumers more choices, so that going green doesn't automatically mean buying a car sporting a battery. We recommend that consumers always consider the following while shopping:
Whether other models using similar technologies are more affordable or a better value
What local shops have the expertise to work on a given model
Whether additional technology will lead to a higher total cost of ownership over time
How much the owner will understand his/her vehicle and how it works in order to negotiate repairs and maintenance
The growing competition in high-mpg, hybrid and all-electric auto markets is making it all the more important for drivers to do a significant amount of research before buying a car. In the past, lots of consumer advocates focused on warranties, features, etc. and now, many are making larger points about choosing, not just a certain brand of car, but a certain kind of technology for the road ahead.
---