---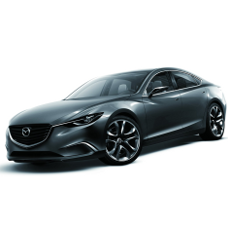 A new concept car from Mazda, just unveiled at the 2012 New York Auto Show, is blending brand cachet and curb appeal with a series of new technologies that have been under development for quite awhile. For a car company that loves articulating its mission statement in bold and expressive ways, the Takeri expresses Mazda's hope for the future in a different way, with a lot of the new technology and engineering that's likely to drive Mazda's lineup through the next few model years.
A press release on the new Mazda Takeri model, which Mazda has revealed as part of its KODO "Soul of Motion" campaign, describes the build and shape of the car almost poetically, alluding to "pronounced body lines which …create katana-like strokes, evoking a tempered intensity," as well as a "sharp five-point grille and lean, chiseled front fascia," but along with the deliberate visual setting that the Takeri provides structurally, there are a lot more reasons for buyers to look closer at this model.
What powers the Takeri is a Mazda SKYACTIV engine design that has been part of the automaker's strategy to provide cars with higher mpg for a new market focused increasingly on saving drivers money at the pump.
The SKYACTIV engine design seeks to rival hybrid and other emerging technologies through specific changes to the fuel combustion process – the Takeri will be powered by a SKYACTIV-D 2.2-liter clean diesel engine that uses a two-stage turbocharger and optimized timing, giving the engine a low compression ratio and allowing Mazda diesel vehicles to burn cleaner, avoiding NOx aftertreaments. As promised last year, Mazda has already put a SKYACTIV engine into this year's Mazda 3, so it's possible to test drive one of these new engines at local dealers.
Stop-start
The SKYACTIV diesel power isn't the only innovation that Mazda is putting into the Mazda Takeri concept car. There's also a stop-start system and other features meant to make the most of the engine's power to conserve fuel, as well as the i-ELOOP, which Mazda calls "the world's first capacitor-based regenerative braking system."
While this sounds like something futuristic, (remember the "flux capacitor" on Doc's DeLorean?) a more detailed description doesn't disappoint: as revealed by Mazda engineers, the capacitor is what allows the car to do without an actual electric motor. By storing electricity elsewhere, the car achieves a kind of hybrid power, without really being a conventional "hybrid." There's no battery involved, either, just a reuse of engine power through a low-resistance electric double-layer capacitor attached to a DC converter.
The new Mazda Takeri represents part of the cutting-edge engineering coming from Mazda's four design studios. From Hiroshima and Yokohama in Japan, to Frankfurt, Germany and Irvine, California, Mazda researchers and design teams continue to build vehicles "inspired by nature" that will compete handily with other offerings from "big 5" makers Toyota, Honda and Nissan, as well as re-emerging giants like Ford and General Motors.
Look for the best local offers on new Mazda models to cash in on some of the finer points of the company's unique "zoom-zoom" design philosophy.
---