---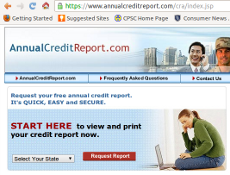 Consumers continue to look for a free copy of their credit report in the wrong places and, as a result, find themselves enrolled in a credit monitoring service that charges a monthly fee.
Avery, of Lompoc, Calif., said he typed in "free credit report" on a search engine and ended up with a large number of sites to choose from. He clicked on ScoreSense.
"I picked one that said 'free' and typed in required info for a free report," Avery wrote in a post at ConsumerAffairs. "At the end it said to possess it would require a one dollar refundable processing fee. I typed in all my credit card info."
But Avery said he was charged $29.95. He said he called the company and cancelled the program in which he had been enrolled.
"I asked about the $29.95 and he told me that was up to the billing dept," Avery wrote.
At last report, Avery had not been refunded his $29.95. Dan, of Collyville, Tex., reports a similar experience, ending up at Freecreditreport.com. He says he was aware that he was being enrolled in a credit monitoring program but had seven days in which to cancel it.
"I viewed and then promptly cancelled my membership," Dan wrote in a post. "My credit card was billed once for the $1.00 but then again for $31.95. I called to get second charge removed. They said best they could do was refund $17.00 because I had already viewed it."
Don't go there
But the question needs to be asked, why would consumers choose to run the risk of being signed up for a service they don't want, and have to cancel, just to get a copy of their credit report?
By law, every consumer can get a copy of their credit report from all three credit reporting agencies once each year at www.annualcreditreport.com. This is the one and only place consumers can get this information without providing a credit card or signing up for a service.
There's really no excuse for not doing so. If you do a Google search for "free credit report," www.annualcreditreport.com is at the top of the search results.
If you do find yourself at any other credit report site, read the information on the site very carefully and make sure you actually want what they are sell.
Feds could make it easier
Of course, the federal government could clear up all this confusion once and for all but giving the official free credit report a ".gov" suffix instead of the ".com." Using the same suffix as commercial sites is a guarantee for confusion.
---