---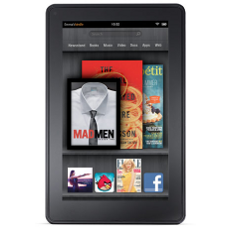 Mirror, mirror, on the wall, who's the hottest Andoid tablet of all? That would be the Amazon Kindle Fire, according to a report by comScore, a digital market research firm.
The report shows the Kindle Fire, Amazon's souped-up e-reader, had an astounding 54 percent of the Android tablet market just four months after its release. No one else was even close.
A ConsumerAffairs analysis of about 940,000 consumer comments on Facebook, Twitter and other social media finds a similarly meteoric rise in net sentiment, with a positive rating of 72 percent last month.
Emotions expressed by the comments we analyzed were almost uniformly positive.
Distant second
According to the data, the Samsung Galaxy Tab is second with a 15.4 percent market share. The Motorola Xoom is third with only seven percent.
"The Kindle Fire, introduced to the market in November 2011, has seen rapid adoption among buyers of tablets," the authors write. "Within the Android tablet market, Kindle Fire has almost doubled its share in the past two months from 29.4 percent share in December 2011 to 54.4 percent share in February 2012, already establishing itself as the leading Android tablet by a wide margin."
Low price
There's no question that the Kindle Fire's popularity is at least partly due to its low price. It costs $200, compared to $500 or more for other tablets.
The Fire's low price draws consumers of limited means, like Marilyn, of New York, N.Y., who thinks $200 is a lot, especially if the product breaks.
"My daughter purchased a Kindle Fire for me for a Christmas gift," Marilyn wrote in a ConsumerAffairs post. "By Feb. 18, it no longer worked. This cost $200! Of course, I threw out the box it came in."
Hopefully someone informed Marilyn that the product was under warranty.
Content delivery system
While the Fire generally gets good reviews, consumers should understand that its main purpose is to sell you more Amazon content.
"A few weeks ago I was trying to view videos on my Kindle Fire when I saw that I couldn't get them unless I was a 'Prime' member," Kelly, of Alexandria, Va., wrote to ConsumerAffairs. "I expected by clicking on the "Prime" icons on my Fire that I would not be charged for Prime membership as I was already a Prime member. When I realized I had in fact been charged $79 for Prime membership - turns out video membership is an upgrade I had to pay for though I didn't know this at the time - I called and canceled the paid membership and received a refund."
ComScore notes that tablet adoption among U.S. consumers continues to climb as more devices appealing to various price and feature preferences are introduced to the market. Screen size is perhaps the most outwardly apparent differentiator between devices, with the market offering consumers a wide variety of options such as the 10" Apple iPad, 9" Sony S1, 7" Amazon Kindle Fire and 5" Dell Streak.
Analysis of page view consumption by screen size found a strong positive association between screen size and content consumption. Specifically, 10" tablets have a 39-percent higher consumption rate than 7" tablets and a 58-percent higher rate than 5" tablets.
---
Sentiment analysis powered by NetBase
---