---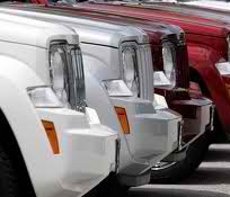 The National Automobile Dealers Association or NADA is alerting American vehicle owners that the slightly used models in their driveways could be worth more than they think; in an April 10 notice, NADA cited swift increases in the values of a range of used cars, particularly small and compact cars that get good fuel mileage.
According to NADA's numbers, an increase of 2.6% in prices of compact and mid-size segments throughout the past month means that many pre-owned cars of these model types have now gained around $300 in value. For the year, NADA claims the same values have gone up over 4%, an average increase of $500.
Trade now?
NADA executive automotive analyst Jonathan Banks is urging drivers to take advantage of current high trade-in values.
"The most advantageous time this year to trade in a used car will be April through May because values will be higher," said Banks, adding that values of compact and mid-size cars will continue to rise faster than the market average.
According to Banks and many others who look closely at the auto industry, the simple fact is that, though domestic and foreign auto makers are quickly building dazzling fuel efficient technologies into modern designs, there's a hunger for high-mpg cars that is still not sated, and a buying public that is still on the hunt for a good, fuel-efficient small vehicle.
Rising gas prices, say analysts, are only part of the equation. Banks cites "shortage of inventory" and "strong consumer demand for fuel-efficient vehicles." North American car buyers seem to have their minds made up, settling in on fuel economy as a must-have for the road ahead.
Most sought-after models
Topping the list of rapidly appreciating high-mpg cars is the 2011 Kia Rio, with an estimated four-month increase in 2012 of 15%, or $1400. At ConsumerAffairs, we recently took a look at awards and consumer attention for new Kia Rio models, where fuel efficiency and more are making these Korean offerings popular stateside.
Also, 2009 Toyota Prius and Toyota Camry hybrid vehicles also gained 12% and 11% respectively, according to NADA, along with the 2011 Mazda3 and the 2009 Nissan Altima. Another big gainer is a bit older; NADA estimates an 11% increase for the 2007 Honda Civic, showing that although the Civic brand may have lost a bit of its luster in recent years, this early-2000s favorite is still enjoying a significant following.
With an estimated average increase of 10%, the relatively obscure and kind of odd-looking 2010 Dodge Caliber shares the stage with the popular 2010 Ford Focus, the 2010 Chevrolet Aveo, and the 2009 Chevy Cobalt.
A word on trade-ins
While it may be solid advice to look at trade-in values as some prices rise, it should be said that some dealers will blanket consumers with aggressive trade-in promotions without really offering the on-lot values that their customers are entitled to.
If you get a flyer from your dealer saying that the lot "must have" your pre-owned car, do the research. A trade-in may be in your favor, but without some careful analysis of current blue book values, it may be hard to know whether you're getting a good deal or not.
Keep in mind that the best way to get top dollar for your pre-owned car is to sell it yourself. Cars.com and AutoTrader.com are just a few of the sites that do a brisk business in putting buyers and sellers together.
In the end, if you are the proud owner of one of the cars on NADA's list, you could upgrade your ride this spring at a distinct advantage.
---