---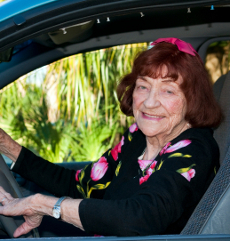 It's an issue every aging person faces, sooner or later. Has disease, or age itself made them unsafe behind the wheel?
At that point, they have to stop driving for their own safety and that of others. But geriatric specialist Dr. Kavon Young of the Harris County, Tex., Hospital District, says loved ones should approach the matter compassionately to preserve the person's dignity and keep them and others safe.
"Aging is a process where so many things are lost," Young said. "Part of what seniors try to hold onto is their independence — the independence to make decisions about their health, their future and their driving. To them, driving is more than a way to get from one place to another."
Big blow to self-esteem
Young says losing the ability to drive can be a big blow to self-esteem to a senior and could trigger depression, anxiety and loneliness. In some cases, seniors may feel isolated and not want to keep up with their medical care.
It's an issue that will become more important in the years ahead because seniors are one of the fastest growing segments of America's population. Making a decision to limit or restrict driving should not be taken lightly.

"A lot of factors and family participation go into discussing driving with seniors because the goal is maintain their dignity in the process. These are adults and should be treated as such," said Young, who is also an assistant professor at the University of Texas Health Science Center (UTHealth) at Houston.
Embrace the issue early
If worried about the ability of a loved one to drive safely, the ideal situation is to talk to them early about driving and safety concerns. Young suggests being open and honest to help when decisions like driving are determined. While most seniors will limit their driving if they don't feel safe, some may not be aware of deficits in vision or memory and will not self-limit.
How do you know when it's time to consider giving up the car keys? Here are some signs:
Longer drive times for short distances
Not obeying traffic signs
Forgetting destinations or locations
Hitting curbs
Being angry or anxious when driving
According to the U.S. Department of Transportation's Fatality Analysis Reporting System, a total of 4,139 people ages 70 and older died in motor vehicle crashes in 2010, representing a 4 percent increase from the previous year.
---