---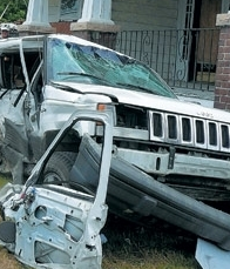 Federal safety regulators are proposing a "brake-throttle override" requirement for cars, hoping to reduce the number of unintended acceleration incidents.
"America's drivers should feel confident that anytime they get behind the wheel they can easily maintain control of their vehicles—especially in the event of an emergency," said U.S. Transportation Secretary Ray LaHood. "By updating our safety standards, we're helping give drivers peace of mind that their brakes will work even if the gas pedal is stuck down while the driver is trying to brake."
The proposal grows out of research by the National Highway Traffic Safety Administration (NHTSA), which has been looking for ways to reduce the risks of high-speed unintended acceleration and prevent crashes involving a stuck or trapped accelerator pedal by allowing the driver to maintain control through normal application of the vehicle's brakes.
The NHTSA proposal aims to minimize the risk that drivers will lose control of their vehicles as a result of either accelerator control system disconnections or accelerator pedal sticking or floormat entrapment. The proposal would amend federal standards by updating the throttle control disconnection test procedures for all passenger cars, multipurpose passenger vehicles, trucks and buses, regardless of weight. For vehicles that have Electronic Throttle Control (ETC) and a gross vehicle weight rating (GVWR) of 10,000 pounds or less, the proposal would also require manufacturers to include a Brake-Throttle Override (BTO) system to ensure the vehicle would stop if both the brake and the accelerator pedals are simultaneously applied. Many manufacturers are already including BTO systems in their vehicle fleets.
"We learned as part of the comprehensive NASA and NHTSA studies of high-speed unintended acceleration that brake override systems could help drivers avoid crashes," said NHTSA Administrator David Strickland. "While NHTSA's defect investigation program will continue to monitor and consider consumer complaints of any potential vehicle safety issues, this proposal is one way the agency is helping keep drivers safe and continuing to work to reduce the risk of injury from sticky pedals or pedal entrapment issues."
Wild in the streets
Complaints about unintended acceleration have been around ever since the horse was the primary means of conveyance. Many complaints are never solved and engineers have been known to scoff at drivers' claims, calling them the result of an overworked imagination or a misplaced foot. But whatever the cause, accidents do happen and they often involve drivers whose qualifications make it unlikely they didn't know which pedal was which.
In August 2009, a California highway patrolman and his family were killed in their runaway Lexus ES 350 on a San Diego freeway. Someone calling from the car before it crashed at over 100 miles per hour said they couldn't stop it. Seconds later, it struck an SUV. The accident helped put unintended acceleration in Toyota vehicles at the top of the safety agenda and eventually led to the 2010 recall of millions of Toyota and Lexus models.
Jeeps have also been the subject of complaints. In June 2006, then-Connecticut Attorney General Richard Blumenthal told federal regulators that they ought to investigate Jeeps after a 52-year-old man was run over and killed by a Grand Cherokee in a Connecticut car wash.
Don't get them dirty
In fact, Jeeps seem to have acquired an especially fearsome reputation among car wash operators, like Dan of Palmyra, Pa.
"My family has owned and operated automatic car washes for nearly 50 years. Over the past 10 years, we have had half a dozen incidents with Jeep Grand Cherokees accelerating out of control," Dan said in a 2011 ConsumerAffairs posting. "Every time it has happened, our employees have maintained that the vehicle took off on them and they could not stop it. The first few times it happened, we assumed it was driver error but not anymore. There is case after case of this happening and nobody at Chrysler will do anything about it.
"On Friday, Nov. 25th 2011, we had a Jeep Grand Cherokee come into one of our full service locations and when my drive-off guy, a 25 year veteran, started it up and put it into gear, it took off on him rapidly accelerating. He narrowly missed other employees and customers and plowed into a utility pole. He has cuts and bruises from the air bag and is in a lot of pain but he maintains that he had his foot on the brake and not the gas. This employee's only job is to pull cars off of the conveyor and as I said, he is a 25-year veteran guy. We will only push jeep Grand Cherokees off the conveyor. We will not start them," Dan said.
Other complaints, not involving car washes, have been received steadily over the years from consumers like Jerry of Brilliant, Ohio, who told ConsumerAffairs about a similar incident last month.
"My wife was coming to pick me up. She got in the 2012 Jeep (Wrangler) and started it up, then put in reverse and then the jeep took off like full speed and the parking brake was on. It went over the hill and slammed into the neighbor's garage and the thing is my jeep had less than 2,000 miles and we only had it in a month," Jerry said.
---