---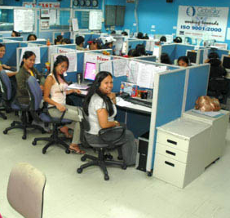 Consumers sound off frequently about offshore call centers, usually complaining the overseas customer service reps are hard to understand and, often, not familiar with American customs and business practices.
Actually, it's not just Americans who complain. Donna of Scarborough, Ontario, called TransUnion to complain about a serious case of identity fraud on her account.
"When I asked to speak to a manager to complain, that's when I was told that I was reaching a call center in India and that they don't have the same privacy rules as Canada and therefore they really don't care who reports on your file," Donna said. "I knew something was wrong when he asked me where I was from and I said Toronto, then he asked me if that is considered Ontario. Wow! What a great country we have here."
Donna's case is hardly unique. Several major investigations have unearthed fraudulent and criminal activity emanating from overseas call centers.
The trend has not gone unnoticed in Congress, where Rep. Tim Bishop (D-N.Y.) of Long Island said yesterday that more than 100 cosponsors have signed onto his legislation to bar American companies that outsource call centers from receiving federal grants and loans.  
Bishop's bill, the U.S. Call Center and Consumer Protection Act (HR 3596), has gained 106 co-sponsors including Congressman Michael Grimm (R-Staten Island). The legislation continues to gain momentum in the House as identity theft and sale of customers' personal information by call center employees in India and the Philippines have been exposed in new reports by the British and Australian media.
Australian TV Newsmagazine Today Tonight reports that an employee at a call center operated in the Philippines for Australian phone company Telstra offered to reduce a customers' $557 (AUS) mobile phone bill to $99 (AUS) in exchange for a $60 (AUS) bribe.
"After I sort of had a chuckle at it, I realized it was like this is quite serious 'cause this woman has access to my credit card account details in Telstra and all my personal details," said Telstra customer Sam McNeil in the report, which has received over 100,000 views on YouTube. 
Sting operation
The Times of London set up a sting operation to snare one of the criminals who make up what it called an "army of data traders selling swathes of personal information - ranging from credit card details and medical records to loans data and satellite TV information - that has been stolen from India's enormous network of call centres," 
"These recent reports of theft and misuse of sensitive information from British and Australian customers of Asian call centers are deeply disturbing, and it is impossible to believe that the financial and medical information of Americans has not been similarly compromised," said Bishop. "It is clear that overseas call centers simply cannot provide the same level of security for sensitive personal data as facilities in the US, and Americans should be guaranteed the option of a domestic call center to conduct their business. Taxpayer dollars should not be supporting companies that choose protecting their bottom line over protecting their customers."
"American companies should be taking all measures necessary to protect the identities and personal information of their customers, and these incidents strengthen the case to keep call centers in the United States," said Rep. Michael Grimm, a former FBI agent. "Furthermore, it is important that we do all we can to preserve American jobs and prevent them from moving overseas. This bill ensures that companies receiving taxpayer-funded federal aid or tax incentives don't use those incentives to move their call centers abroad. I stand behind this legislation that not only protects American jobs but ensures that the people of Staten Island and Brooklyn are protected by American laws that safeguard their personal information and protect them from identity theft."
Ineligible for loans
The U.S. Call Center and Consumer Protection Act would require the U.S. Department of Labor to track firms that move call center jobs overseas; the firms would then be ineligible for any direct or indirect federal loans or loan guarantees for five years. The provision is partially a response to the practice of companies taking millions in incentives from local taxpayers to open call centers in the U.S., only to off-shore their operations a short time later and leave local communities devastated and still paying the bill.
Bishop's bill also requires overseas call center employees to disclose their location to US consumers and gives customers the right to be transferred to a US-based call center upon request.
The Communications Workers of America, who represent 150,000 call center employees across the United States, have been strong supporters of the U.S. Call Center and Consumer Protection Act.
"Americans are fed up with good-paying, family-supporting call center jobs here in the United States being shipped overseas," said CWA Chief of Staff Ron Collins, who began his career in a U.S.-based Verizon call center. "Now, to hear that personal information is being stolen at overseas call centers just days after T-Mobile USA announces it will be closing seven call centers in the USA -- affecting 3,300 American workers - just makes your blood boil."
---