---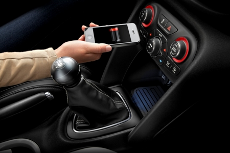 In a world seemingly filled with goofy gadgets and fairly useless innovations, Chrysler Group has come up with something that could actually save time and trouble: wireless in-car recharging of all those goofy gadgets.
Through its Mopar division, Chrysler is introducing new technology that will allow your iPhone, Blackberry, MP3 Players and Droid-based devices to immediately begin charging in your vehicle once the engine has started -- without the need to plug in any cords.
No, you can't keep your phone in your pocket or purse. This is new technology, not a miracle.
The company said a seamlessly integrated power bin will be installed just below the center stack and in front of the center console. The bin has a built-in charging grid that is activated when customers place their battery-powered device in it. A phone case, specifically designed for a variety of smartphones, is required and included with the feature.
The new technology will debut for customer purchase in the all-new 2013 Dodge Dart, which arrives in dealerships in the second quarter of this year.
Mopar in-vehicle wireless charging is available for $199.99, plus installation. For a detailed look, watch Mopar President/CEO Pietro Gorlier and Head of Product Development and Sales Jim Sassorossi below.
---