---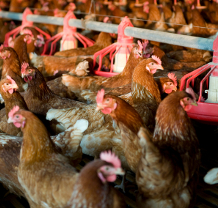 Corporations and governments are always trying to save money and a convenient way to do that is to "privatize" -- or outsource -- tasks normally handled by fulltime employees. Sometimes this works well but quite often it doesn't.
Not surprisingly, federal poultry inspectors are not very happy about the U.S. Department of Agriculture's (USDA) plan to partly privatize the poultry inspections process, while also drastically increasing the number of birds inspectors must examine.
"Budget cuts are driving the USDA to take this drastic step, which would reduce our highly trained teams of federal food safety inspectors to a skeleton crew who would have to review three birds every second – a humanly impossible task," American Federation of Government Employees (AFGE) National President John Gage said. "This is a recipe that appears to be putting diseased chickens right on our kitchen tables, and we are urging the USDA to reconsider this foolish and dangerous proposal."
On Thursday, the day after ABC World News broadcast a story on the controversial proposal, FSIS announced it would extend the comment period on the proposed rule by an additional 30 days. The original deadline was April 26; nearly 600 comments have been submitted on the rule so far.
The USDA proposal would extend nationwide a pilot project that has allowed some poultry companies to inspect their own chickens. But an analysis released last month by the nonprofit Food & Water Watch revealed that large numbers of defects are routinely being missed when inspection tasks are performed by company employees instead of USDA inspectors.
FSIS data obtained by AFGE under the Freedom of Information Act revealed that company inspectors operating under the pilot project remove far fewer diseased birds than federal inspectors operating under the traditional process. At one company, Pilgrim's Pride, the condemnation rate for diseased birds is twice as high at the traditional plant as compared to the privatized plant.
150,000 petitions
The AFGE and consumer groups last week delivered nearly 150,000 petitions to the U.S. Department of Agriculture opposing proposed changes to the poultry inspections process that will impact the health and safety of the American public.
Delivering petitions were representatives from AFGE, AFL-CIO, Daily Kos, Food & Water Watch, American Rights at Work and the Government Accountability Project.
---