---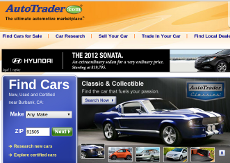 As we've reported earlier, smaller used cars are currently enjoying big gains in value for a range of used cars and other vehicles that are offering today's American consumer a way to get what they want in an auto purchase without taking on the MSRP for a model just out of the factory.
Now AutoTrader is reporting that a particular kind of used vehicle -- certified pre-owned, or CPO -- represents the best of both worlds for many buyers; these autos come with the more reasonable price tags of a used car, but with the quality warranties and manufacturer backing provided by specific certification programs.
To offer a CPO vehicle, the automaker typically employs certified technicians to make sure that a pre-owned car is up to factory specifications. The automaker can then stand behind the vehicle, offering the same kind of comprehensive warranty that a new car buyer would expect. For buyers used to seeing a local used car dealer's 60 day/300 mile offer in the window, or just the chillingly succinct phrase, "as is," a CPO buy can be a way to get more peace of mind about buying a car that's been on the road for a year or two.
In releasing actual numbers on the most desirable CPO models, AutoTrader uses the interesting method of recording "views" of a model online for a list of "most viewed" vehicles. This firm, a company with a wide reach and subsidiaries including Kelley Blue Book, offers April buyers more data about what's currently trending. AutoTrader top brass note that the down economy has a lot of buyers looking for lower prices, and that's where CPO programs can generate a lot of interest at local lots.
Top views
One car that's getting a lot of attention is the BMW 3. This car has topped the list of AutoTrader's most viewed CPO vehicles two months in a row, followed by the Honda Accord. Honda has two models on the list, with the Honda Civic at #4, while Toyota has three. The rest of the slots are split between American makers Ford and Chevrolet, the German Volkswagen, and luxury brand Audi.
Ford and Chevy's slots go to trucks: the Chevrolet Silverado 1500 at #3 and the best-selling Ford F-150 at #5. The Toyota Tacoma and Toyota Tundra both make the list, too, at #7 and #10 respectively. While AutoTrader execs note that interest in trucks is "declining slightly" due to a current obsession with fuel economy, it's clear that the work truck still commands a relatively large customer base in the CPO market.
If you're a little indecisive about whether to spring for a new car, take a look at some of the CPO programs available from various car makers, like Toyota's certified initiative offering buyers a 12-month/12,000-mile Comprehensive Warranty and a 7-year/100,000-mile Limited Powertrain Warranty, along with extras like roadside assistance and a full quality assurance inspection.
For those who want a domestic CPO choice, Ford and Chevrolet offer many of the same benefits in their respective CPO offers; Ford promotes a "172-point" check and 12-month, 12,000-mile comprehensive limited warranty that covers "more than 500 components" of a vehicle. For its part, GM offers 12 months, 12,000 miles on its "Bumper to Bumper" warranty, a maintenance plan, and more to attract customers to Chevrolets, Buicks and GMCs carrying the GM seal of approval. Look for select vehicles available at local lots.
---