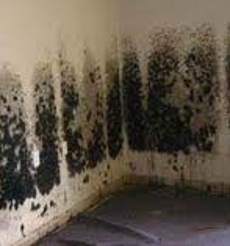 "Black mold" may be one of the most dreaded phrases to a homeowner. It conjures up visions of HAZMAT equipment and a huge bill.
But listen to what someone in the mold remediation business, Jason Earle, founder of 1-800-GOT-MOLD LLC, has to say about black mold.
"Beware the black mold hype," Earle said. "It's a sales pitch based on fear, often accompanied by inferior abilities and practices on the part of the seller. Treat these hucksters the same as you would the character who knocks on your door and offers to seal your driveway or patch your roof."
Mold is mold
It's not that Earle wants you to ignore mold, not at all. After all, he's in the business. It's just that Earle thinks homeowners should simply be concerned if they have mold, and not worry about what type it is.
"Perhaps the most profane use of the 'black mold' term to generate sales is in the realm of cheap home mold test kits," Earle said.
According to Earle, indoor mold is unhealthy. Mold growth left unchecked will often get worse over time, and can make virtually anyone sick, he says. How sick depends on the individual, and sometimes the extent of the mold growth.
The U.S. Centers for Disease Control and Prevention, however, says mold exposure does not always present a problem. However, some people are sensitive to molds and, for them, it is a problem.
Mold exposure symptoms
These people may experience symptoms such as nasal stuffiness, eye irritation, wheezing, or skin irritation when exposed. Some people may have more severe reactions to molds. Severe reactions may occur among workers exposed to large amounts of molds in occupational settings, such as farmers working around moldy hay.
Severe reactions may include fever and shortness of breath. Immunocompromised persons and persons with chronic lung diseases like COPD are at increased risk for opportunistic infections and may develop fungal infections in their lungs.
In 2004 the Institute of Medicine (IOM) found there was sufficient evidence to link indoor exposure to mold with upper respiratory tract symptoms, cough, and wheeze in otherwise healthy people; with asthma symptoms in people with asthma; and with hypersensitivity pneumonitis in individuals susceptible to that immune-mediated condition. The IOM also found limited or suggestive evidence linking indoor mold exposure and respiratory illness in otherwise healthy children.
When you find mold in your home, you may or may not require the services of a professional. According to the CDC, mold can be removed from hard surfaces, in most cases, by a thorough cleaning with commercial products, soap and water, or a bleach solution of no more than 1 cup of bleach in 1 gallon of water.
If you have an extensive amount of mold and you do not think you can manage the cleanup on your own, you may want to contact a professional who has experience in cleaning mold in buildings and homes. Just don't be frightened by the "hype" over a particular type of mold.