---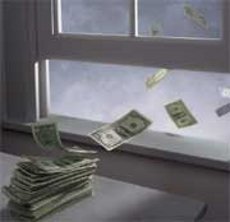 Aging Baby Boomers are beginning to inherit money in increasing numbers as members of the "greatest generation," who have worked hard and saved all their lives, pass from the scene.
What becomes of the money? A new study shows that half of it gets spent, and only half gets saved. The findings may be good news for retailers, restaurant owners and people in the service industry who will receive that spillover from that windfall, but not so good news for personal finance advisers who continually urge their clients to save more.
Disappointing
"I came into this study thinking that people would save more of their inheritance than what I found," said Jay Zagorsky, author of the study and research scientist at Ohio State University's Center for Human Resource Research. "The fact that people spent about half is disappointing in some ways, but not shocking."
The findings are significant because, over the next 10 years, elderly Americans are expected to transfer almost $4 trillion to their heirs.
"If these findings are correct, this means about $2 trillion will be saved and $2 trillion spent," Zagorsky said.
Overall, more than one-third of all inheritors saw a decline or no change in their wealth after getting an inheritance. Among baby boomers who inherited less than $1,000, slightly more than 40 percent spent their entire gift.
The more you inherit, the more you keep
The more someone inherited, the less likely they were to spend or lose it all, but according to Zagorsky's data, it happens. For those who received $100,000 or more, more than 18 percent either spent it, lost it, or gave it away.
"This means that almost one in five young baby boomers who inherited a significant amount of money spent or lost all of it. That's pretty amazing," Zagorsky said.
How do you make sure you aren't one of those 20 percent who spend or lose it all? Financial advisers say it starts with a plan.
Make a plan
Spend a significant amount of time thinking about your goals for your inheritance. Do you want to use it to support yourself in your old age, or perhaps grow it and pass it on to other family members?
As soon as you receive the money, it is important to segregate it from your other finances. Open a new bank or brokerage account and set aside the portion you want to save. If it is kept separate from the rest of your money, you will be less tempted to spend it.
Talk to a trusted and objective financial adviser about your goals for the money and how the money should be invested.
Most inheritances are tax-free, and because of that provide real opportunities to build wealth and increase financial security. Capitalizing on those opportunities requires some discipline and a plan.
Whatever you do, you don't want to wind up facing retirement with virtually no assets, like the 60 percent of prospective retirees studied in a recent survey.
---