---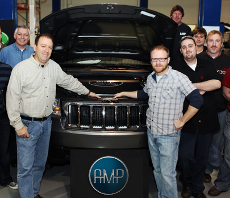 As more drivers get interested in the possibility of an all-electric plug-in vehicle, automakers are trying to position themselves for this future market. But meanwhile, some smaller companies are getting into the mix, with some creative strategies for making more of tomorrow's vehicles less reliant on traditional fossil fuels.
One company, called AMP, is taking its own approach to offering consumers an all-electric ride.
AMP recently announced that it has been approved by federal regulators, meaning that purchasers of AMP vehicles are going to be eligible for the $7,500 electric-car tax credit. In addition to the federal tax credit, many buyers will be eligible for state incentives of up to $5,000.
But unlike other companies offering these options, AMP is not selling its own vehicles. Instead it's converting other models that previously ran on gasoline.
Conventional body
While companies like Tesla and Fisker unveil their own exotic models running on high-power batteries, AMP is cutting costs by using a conventional auto body and adding its own proprietary technology.
"We don't want to reinvent the wheel," reads AMPs corporate mantra, "We want to power it differently."
Some of the vehicles currently in the works are the AMP electric Jeep Grand Cherokee, which is going to represent AMP's flagship model as the "first all-electric SUV." AMP has received accolades from Consumer Reports and other venues as a major player in making all-electric power available for larger vehicles, not just small cars.
Reports from last year show that AMP has moved to a relationship with Chrysler from previous collaborations with General Motors; AMP is also credited with developing the first all-wheel drive electric vehicle with its Mercedes ML model. As for the AMP Grand Cherokee, it's expected to have about a 100-mile range.
With a list price of around $50,000, minus the state and federal tax credits, the AMP Grand Cherokee becomes affordable for many drivers who can tolerate the relatively short range.
As for the timeline, customers who are interested can now reserve vehicles in key market areas, including Southern California and Seattle on the West Coast, New York City and the Washington DC metro area in the Northeast, and Cincinnati in the Midwest.
After its debut at the 2012 North American International Auto Show in Detroit in January, this new all-electric option is slowly making its way out into the American street. Think about how it stacks up against some of the "big seven" plug-ins if you're interested in piloting a no-gas, zero-emission vehicle without sacrificing size.
---