---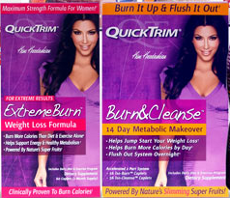 Would the Kardashian sisters lead you astray? A proposed class action lawsuit says the reality TV star and two of her sisters have made false claims about QuickTrim diet pills.
The lawsuit says the pills amount to little more than caffeine with a few herbal ingredients thrown in and says the claims made by the Kardashians are "false, misleading, and unsubstantiated."
The plaintiffs in the case live in New York, California and Florida and alleged that they purchased the diet pills because of the Kardashians' endorsements.
The suit, filed in federal court in New York, seeks over $5 million in damages. It was filed by the law firm of Bursor & Fisher.
Kim Kardashian, 31, made an estimated $65 million in 2010 from her TV shows, clothing line and numerous endorsements of fitness, beauty and weight-loss products.
---