---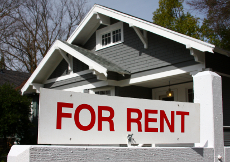 Many of those abandoned foreclosed houses blighting neighborhood streets could soon have "for rent" signs in front of them. Fannie Mae and Freddie Mac are considering a proposal to stop selling and start renting many of those homes.
The reason is very simple: an eight percent cap rate.
According to a new and much-publicized Federal Reserve white paper, eight percent is the return which could result from renting foreclosed housing units now owned by Fannie Mae and Freddie Mac.
The catch is that the 8 percent capitalization rate is hardly a sure thing — it takes a lot of financial twists and turns to justify the 8 percent figure. No less important, it may be that 8 percent is actually a low estimate — logic suggests that savvy investors may do far better.
For example, an investor might pay $100,000 for a house that could be rented for $1,200 a month. After spending $20,000 on improvements, the total investment would be $120,000 and the annual rent $14,400 - a return of 12 percent before taxes.
Rents are rising
Rents also continue to go up, mainly because so many people can no longer qualify for a mortgage to buy a home. Rents have risen 10 percent or more in many markets in the last year.
In January Federal Reserve Chairman Ben Bernanke sent a white paper to Congress describing some of the strategies which could be used to ease the foreclosure crisis. One idea is to rent empty homes now held by Fannie Mae and Freddie Mac.
Such a move would would help reduce the inventory of foreclosures on the market. There are other advantages to renting repossessed homes. The properties would be occupied and by itself that would mean less vandalism and decay, fewer neighborhood eyesores and actual cash flow to offset ownership costs until the properties can be sold off.
If Fannie and Freddie do decide to start renting homes, they will be following, rather than setting a trend. Individual investors have been buying up distressed properties for more than a year. In the last 12 months, National Association of Realtors sales data show that investors have made up nearly one third of the buyers every month.
---