---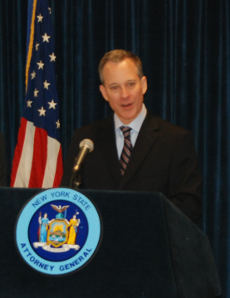 Eric Schneiderman
It seems consumers have finally gotten the ears of some powerful advocates. A number of state attorneys general used the occasion of National Consumer Week to issue compilations of the top consumer complaints in their states in the last year, and what they've done about it.
New York Attorney General Eric Schneiderman, for example, reports that Internet-related complaints topped the list in his state in 2011. Close behind on the list were credit issues, including complaints about credit card billing and debt settlement companies. Complaints about auto dealers and particular brands also garnered a number of complaints from New York consumers.
Crime scene
"The crime scene of the 21st century is the Internet, and it is important for consumers to not only know their rights online, but how to seek justice," Schneiderman said. "In addition to taking action against those who cheat New Yorkers, our office is always a resource to stop scams before they start."
In New Jersey, meanwhile, complaints about home improvement services and contractors generated the largest category of complaints filed by consumers last year with the State Division of Consumer Affairs, representing 7.7% of all consumer complaints received. Motor vehicles was the second largest category of complaints, followed by credit issues.
Surge in debt collection complaints
"Debt collection complaints rose from 8th place in 2010 to 3rd place last year, likely reflecting the difficult economy we're in," said Thomas R. Calcagni, Director of the New Jersey Division of Consumer Affairs. "Home improvement and motor vehicles complaints switched positions but continued as the two top complaint categories in the last two calendar years."
In North Carolina, Attorney General Roy Cooper reports that, for the first time, complaints about lenders topped the list in 2011.
A total of 3,998 consumers filed complaints about interest rate hikes, charges for late payments, foreclosure relief scams and other lending related issues in 2010, compared to 3,909 complaints in 2011. Complaints about health care, the second leading source of complaints, were down sharply, with 3,271 complaints in 2011 compared to 4,605 in 2010. At number three, complaints about Do Not Call violators were up to 2,933 in 2011 compared to 2,514 in 2010.
Attorneys general seek input
The attorneys general went out of their way to encourage consumers who have experienced a consumer problem to contact their office. New Jersey Attorney General Jeffrey Chiesa said consumer complaints are "key tool" used by investigators. Cooper agrees.
"If you didn't get what you paid for or think you've been scammed, we want to know about it," Cooper said. But we'd rather help you avoid trouble in the first place by warning you about common problems," Cooper said.
So, in addition to posting your complaint at ConsumerAffairs, it's a good idea to also send a copy to your state attorney general's office. You can find your state attorney general here.
---