---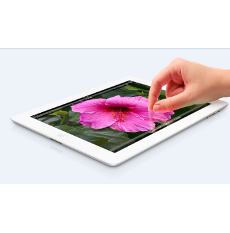 Dubbing it "resolutionary," Apple today unveiled its latest iPad, featuring a 9.7-inch screen with more pixels than traditional high-definition televisons, producing an ultra-sharp image.
Not just sharper, the new iPad has a faster chip and runs on high-speed LTE wireless networks, including AT&T and Verizon's 4G networks. The device will cost $399 to $829.
What it doesn't have is Siri, so if you want someone to talk to you, you'll need to find a human, if any are available.
What it also doesn't have is a new name. It's still just the iPad, not the iPad3, the iPadHD or any of the other names that had been floating around.
Apple is taking pre-orders today and it will arrive in stores on March 16 in the U.S., Australia, Canada, France, Germany, Hong Kong, Japan, Puerto Rico, Singapore, Switzerland, UK and the US Virgin Islands.
Giants struggle
It's the latest entry in the intensifying struggle for dominance among Apple, Amazon, Microsoft, Google, Samsung and other players, each hoping that sales of their devices will tie customers to their online storehouses of movies, music, books, games and other software.
"The new iPad redefines the category Apple created less than two years ago, delivering the most amazing experience people have ever had with technology," said Philip Schiller, Apple's senior vice president of Worldwide Marketing. "The new iPad now has the highest resolution display ever seen on a mobile device with 3.1 million pixels, delivering razor sharp text and unbelievable detail in photos and videos."

The new iPad's Retina display delivers four times the number of pixels of iPad 2, so dense that the human eye is unable to distinguish individual pixels when held at a normal distance, making web pages, text, images and video look incredibly sharp and realistic, the company said.
The 3.1 million pixels in the Retina display are more than one million more pixels than an HD TV, and with 44 percent increased color saturation the new iPad displays colors that are richer, deeper and more vivid. Movies are now capable of playing at full 1080p HD-resolution.

The new iPad also supports dictation. Instead of typing, tap the microphone icon on the keyboard, then say what you want to say and the new iPad listens. Tap done, and iPad converts your words into text. You can use dictation to write messages, take notes, search the web and more. Dictation also works with third-party apps, so you can update your Facebook status, tweet, or write Instagram captions, Apple said.
---