---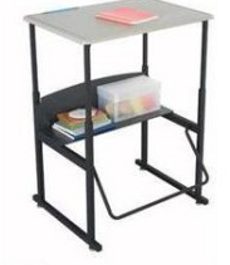 Are you still sitting down on the job? Might be time to get up and move around, or even to get a stand-up desk.
Another study has found that prolonged sitting is a risk factor for all-cause mortality, independent of physical activity. Researchers at the Sydney School of Public Health in Sydney, Australia, linked questionnaire data from more than 222,000 individuals 45 years of age and older. The models examined all-cause mortality in relation to sitting time, adjusting for sex, age, education, urban/rural residence, physical activity, body mass index, smoking status, self-rated health, and disability.
Writing in the Archives of Internal Medicine, one of the JAMA/Archives journals, they reported finding 5,405 deaths among the group being studied, with higher death rates for those who spent more time sitting. The researchers said the higher mortality rate appeared consistent across the sexes, age groups, body mass index categories, and physical activity levels and across healthy participants compared with participants with preexisting cardiovascular disease or diabetes mellitus.
The conclusion? Prolonged sitting is a risk factor for all-cause mortality, independent of physical activity, and the researchers said that public health programs should focus on reducing sitting time in addition to increasing physical activity levels.
The findings are similar to those released last November by a group of Canadian researchers, who said a lack of physical activity -- especially sitting for long periods -- can lead to cancer. Presenting at the American Institute for Cancer Research (AICR) annual conference, the researchers said as many as 49,000 cases of breast cancer and 43,000 cases of colon cancer occurring in the U.S. every year are linked to a lack of physical activity.
"Taken together, this research suggests that every day, we're each given numerous opportunities to be active and protect ourselves from cancer, not one," said AICR spokesperson Alice Bender, MS RD. "We need to start thinking in terms of make time and break time."
According to the study, led by Christine Friedenreich, PhD, of Alberta Health Services-Cancer Care, getting a vigorous workout every day – while part of a healthy lifestyle – won't lessen what she sees as the cancer risk from prolonged sitting.
Her advice? Make time for physical activity and break every hour of sitting with one to two minutes of activity. These breaks can be as simple as walking to a colleague's office instead of sending an email or going to the kitchen to get a glass of water.
---