---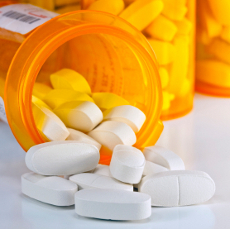 If it seems like prescription drug prices are rising rapidly, it's because they are. In fact, a survey by AARP finds that the cumulative change in retail prices for a combined set of prescription drugs widely used by Medicare beneficiaries was almost double the rate of inflation between 2005 and 2009.
For a consumer who takes a prescription drug on a chronic basis, this translates into an increase in the annual cost of therapy of more than $1,000 over the same time period.
"At a time when our country is contracting economically and inflation is really, really low, inflation in the cost of prescription drugs is going in the other direction," said Cheryl Matheis, senior vice president for policy strategy at AARP. "The word we use is relentless because it just doesn't seem to abate."
AARP said the increases were attributable entirely to drug price growth among brand and specialty drugs, which more than offset substantial price decreases among generic drugs.
The pharmaceutical industry criticized the report, saying the expanded availability of generic drugs has slowed the increase in drug prices in recent years.
"AARP has released yet another misleading pricing report that ignores key facts about the marketplace for prescription medicines and paints an inaccurate picture of prescription drug spending in the U.S.," the Pharmaceutical Research and Manufacturers of America, the industry trade and lobbying group, said in a statement.
AARP's Rx Watchdog report series has been tracking manufacturer price changes for widely used prescription drugs since 2004.
The reports compare retail price changes with the rate of inflation. They also present differences in average price changes by manufacturer and by major theraputic category.
The sample of drugs studied was identified using 2006 data from a Medicare Part D plan provider, and changes in prices were measured using changes in the retail prices charged to consumers ages 50 and older enrolled in employer-sponsored health plans, as reported by the Thomson Reuters Marketscan® Research Databases.
---