---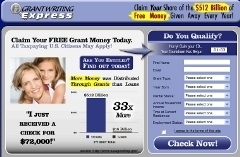 The Government Grant Scam has been around a long time, and apparently, has a new wrinkle or two. Alicha Burlson, of Lincoln City, Ore., reports receiving a call from a woman telling her she had been awarded a grant of $8,400 to further her education. It just so happens that Alicha had, indeed, applied for an education grant a month earlier.
"She told me the information on my address and made sure it was correct," Alicha told ConsumerAffairs.com. "Then she said I needed to call a number and talk to another person. When I called the number, the gentleman said that he received the information and wanted my bank's routing number and checking account. I feel silly but I did give it to him, then he said to receive the money I needed to donate 155 dollars to a charity. I told him I would not donate because I have no money and he said you must have cash to get grant. I repeated that I would not donate."
Alicha should immediately contact her bank's fraud department since the man has her bank information. Any money she had in the account is probably gone. It's disturbing that the scammers had her address, suggesting they are taking more care in selecting their victims and not choosing them at random. The charitable donation demand is a new wrinkle. Chances are, the "charity" is one operated by the scammer.
Being followed
Mary Beth, of Rosamon, Calif., felt she had plenty of Dermitage Anti-Aging System product and cancelled her prescription when she moved at the end of December. But Dermitage followed her to her new address.
"I received the product at my new address in February, unopened, and I was going to send it back and request a return mailing slip," Mary Beth said. "They automatically had charged me and refused to take back the product because they had 'notified me by e-mail' and therefore I could not return the product I did not request and they continue to charge me for the following month."
Mary Beth should contact her credit card company and report it as an unauthorized charge. Unless the company can provide a proof of purchase, it will have to return the money.
Bad timing
Amanda, of Manteca, Calif., says she switched cell phone carriers from Verizon Wireless to Virgin Mobile last week. Everything was smooth, she said, expect the final bill.
"I called today to find out the balance due, and they told me I had to pay my entire bill; including all taxes and fees," Amanda said. "I have used the service for approximately days out of the month and 10 minutes of use this billing period. My bill was $44.02 so that comes out to $4.40 per minute!"
Most cell phone companies do not prorate their bills, even though Amanda thinks that was the fair thing to do. If she didn't want to pay the overlap, she should have timed her move to Virgin Mobile near the end of the billing cycle.
---