---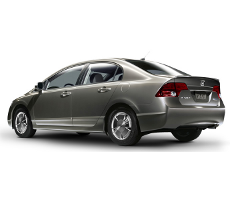 A Los Angeles lawyer who opted out of a class-action settlement has won a small claims court lawsuit against Honda Motor Co. that will pay her roughly 100 times what the class action would have.
"I am absolutely thrilled at the reports that I won, even though I won't see the actual judgment until it comes in the mail. It's a victory for Civic Hybrid owners everywhere! Sometimes big justice comes in small packages," Heather Peters said in an email to ConsumerAffairs.com.
Peters sued Honda alleging that the automaker exaggerated the fuel efficiency of her 2006 Civic Hybrid.
Although it could not be immediately confirmed, Peters said she won $9,867 in Los Angeles Small Claims Court. She would have been eligible to receive about $100 in cash and a $500 coupon towards a new car under the class-action settlement, Peters said.
Peters was miffed after she determined her Civic Hybrid didn't get the 50 miles per gallon the carmaker claimed. After rejecting the class-action settlement, she filed her own suit in Small Claims Court, which allows citizens to file cases without a lawyer.
Small claims advantage
Consumer advocates have long pointed consumers towards the small claims courts as a way to settle disputes with companies and other individuals. Laws vary from state to state but in general, the damages sought must be below a set amount, often around $10,000. ConsumerAffairs.com publishes a state-by-state guide to small claims courts around the country.
In many cases, when consumers sue large corporations, the companies do not bother to send a representative and the consumer wins by default. On the other hand, businesses are increasingly turning towards small claims courts in many states to sue consumers in disputes over payments, refunds and other issues.
Not done fighting
Peters, meanwhile, is not done with her crusade against Honda. Last week, she submitted evidence to all 50 state attorneys general urging them to look into whether they can bring action against Honda on behalf of consumers in their states. She said last week that AGs from California, Iowa, Michagan, Ohio and Washington contacted her to confirm they are looking into the case.
Peters has also started an online petition a t
change.org
urging all 50 states attorneys general to object to the class action settlement. Within the first 24 hours, 126 people from 28 states had signed her petition and the following comments were posted:
"This car is dangerous! The amount of power is unpredictable"
"Getting 30 mpg at best plus with the software update, this car is not safe to drive"
"I sold my HCH last year because it became too frigthening to drive"
"I can't even trade it in, nobody wants it"
"Going from standstill on a hill is very dangerous"
"Unfortunately these comments are just the tip of the iceberg," Peters said. "Hundreds and hundreds of
Civic
Hybrid owners have reached out to me through
www.dontsettlewithhonda.org
with similar complaints, yet
Honda
is still telling them the cars are 'performing as designed'".
---