---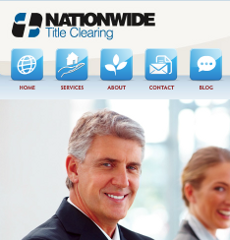 When investigators in Illinois began looking into allegations of wrongful foreclosures, they focused on how documents were handled. The result is a suit by the state against Nationwide Title Clearing (NTC), that accuses the company of filing faulty documents with Illinois county recorders.
NTC is a Florida-based company that prepares documents for mortgage servicers to use against borrowers who are in default, foreclosure or bankruptcy.
"The practices that NTC used were a key contributor to the mortgage crisis by undermining the integrity and accuracy of the mortgage servicing and foreclosure process," Illinois Attorney General Lisa Madigan said.
Serves eight of the top 10 lenders
NTC provides a range of mortgage loan services to eight of the top 10 lenders and mortgage servicers in the country. It specializes in creating, processing and recording mortgage assignments, which are often used for a lender to foreclose on a borrower.
The lawsuit, filed in Cook County Circuit Court, alleges numerous violations of the Illinois Consumer Fraud and Deceptive Practices Act and the Uniform Deceptive Trade Practices Act. Madigan is asking the court to require NTC to review and correct all documents it unlawfully created and recorded in Illinois, and pay back all revenues, profits and gains achieved in whole or in part due to unlawful practices.
The suit also asks the court to impose civil penalties against the company.
Criminal charges in Missouri
The action by Illinois comes as 40 states reached a settlement this week with five major lenders, resolving allegations that "robo-signers" were illegally employed to sign foreclosure documents. In Missouri, a county grand jury has returned a criminal forgery indictment against DocX, a company that prepares foreclosure documents for major banks.
The indictments were the result of months of investigation by the Missouri Attorney General's Office into the robo-signing scandal that injected thousands of questionable mortgage documents into the market. When the practice began to come to light, several major lenders temporarily suspended foreclosures in 2010.
DOCX's role in the robo-signing process came to national attention when 60 Minutes reported that Linda Green, an employee of DOCX, purportedly signed thousands of mortgage-related documents on behalf of several different banks and in multiple handwritings. The 68 documents on which the indictments are based were purportedly signed by Linda Green, but were allegedly signed by someone else.
---